Carrie had the cutest way to get her husband-to-be involved on the planning process of their wedding; they decided to have an airport themed wedding since Josh is a pilot. The save-the-dates were plane tickets, the escort cards were luggage tags (Cute and clever!), instead of table numbers they used Airline Names, the guest "book" was a Globe, and let's not forget about the favors; airplane shaped chocolate lollies. You could also do the same with your preferred theme, just don't be afraid to expand you horizons. You can incorporate the theme to the little details to make it more authentic and personalized. They even had some personalized tokens for their groomsmen and bridesmaids.
Click image to enlarge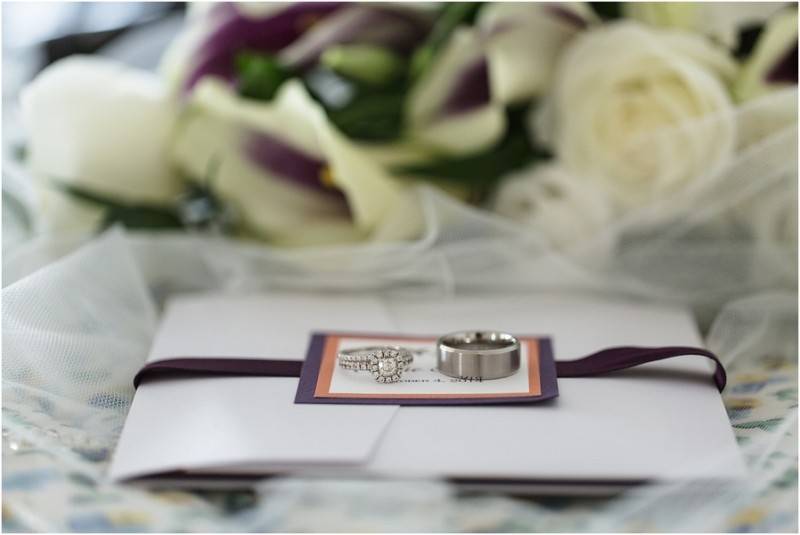 Like. Click to Vote
>
Carrie LaQuerre (Bride):
Josh is a commercial airline pilot so we wanted to incorporate that in order to keep him involved in the process! Our save the dates were boarding passes, our table names will be airlines (mostly vintage airlines like Pan AM, TWA), our escort cards are luggage tags, our guest book is a globe, and we had a big sign like the ones you would find at an airport at the entrance to the reception that said things like Baggage Claim, Check In, Beverage Cart, etc. with arrows for direction. Our favors are chocolate airplane lollipops.
I had very little in mind for our wedding before we began planning. I knew I wanted a Fall wedding since there is nothing like New England in the Fall, and I knew I wanted a Cape wedding since I have been coming down here since I was 6. Plus Josh and I took our first weekend trip together here.
I'm normally anti-"themed" wedding but once I took the airline theme I just ran with it since I realized how many cute things there was to do. In the end it won't really matter though because our guests are the people who are nearest and dearest to our heart and they also happen to be SO much fun! I know I could have done the bare minimum and still had an amazing time but I figured this would make my wedding a little bit different than every other wedding our guests have attended.
Groomsmen were given personalized whiskey glasses and whiskey stones. Bridesmaids got canvas totes with their first initial. I filled them with candy, alcohol, acrylic mason jars, jewelry for the wedding day, and personalized make up bags. Plus my Maid of Honor got a glass jewelry box and also she (as well as one of my other BM's) got personalized wine openers since they went a little above and beyond and really planned all of my wedding festivities.
VENDORS
Photographer:  Shoreshotz1 Photography
Dress Designer: Allure Bridal
Lighting: boston event lighting and films
Bridesmaid Dresses: Davids Bridal
Shoes: DSW
Groomsman Attire:Mens Warehouse
Dress Store: Platinum Bridal Boutique
Hair Stylist: Artworx Hair Design
Cake Designer: Cupcake Charlie's
DJ: D.J. Danny Walsh
Invitation Designer: Dulce Press
Reception Venue: New Seabury Country Club
Event Planner: The Perfect Plan
Floral Designer: Wedding flowers by nichole/ Bourne florist