Finding the right photographer will indeed pay off — just like in Vincent and Vanessa's case. I am taken aback by how their big day was photographed. If you want to reminisce your big day invest on your photographer. Vincent and Vanessa's photographer captured the beautiful blush motif, the aesthetics, and the romance of it all, kudos! Their wedding is honestly a gold mine for inspiration for those future brides.
Click image to enlarge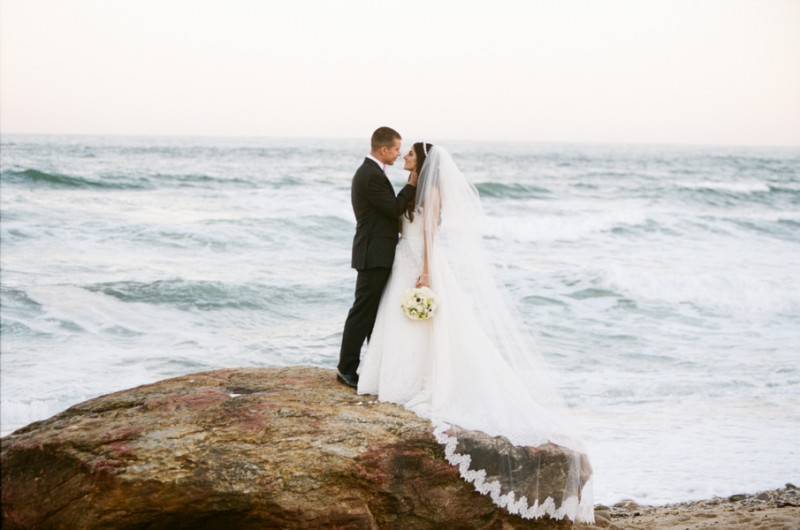 Like. Click to Vote
>
The Guest List:
Invited 180, 130 attended
9 bridesmaids, 8 groomsmen- 17 total
The Challenges We Faced:
We had trouble with some of the bridesmaid dresses being altered and the girls had to go back to the alterations department at bridal reflections several times before we got it right. It was a new dress and their tailors had never altered it before so I think it was just a matter of being patient until we were able to get it right. It ended up working out fine, but a little nerve racking at first thinking something could go terribly wrong!
Probably finding the perfect venue in our budget. We really wanted something close to the water with indoor and outdoor space as well as onsite catering that had a destination feel. There was a big checklist for the venue and budget is, of course, the biggest so it was a little stressful until we went and looked at the Montauk Yacht club and realized it had all of our "must haves."
I showed up to the church thinking I would be late and the last to arrive, but apparently the party bus with all my bridesmaids took a wrong turn and showed up late for the ceremony! Good thing it was only 10 minutes
The Do-It-Yourself (DIY) Project:
We put together the sparkler bins with signs and personalized matches; welcome bags for our guests staying at the yacht club; bathroom bins
VENDORS
Photographer: Photography by Verdi
Dress Store: Bridal Reflections
Hair Stylist: Fire Monkey Hair Design
Floral Designer: Karen Lenahan Designs Interiors and Flor
Reception Venue: Montauk Yacht Club
Makeup Artist: Perfectly Blended makeup
Bakery: Sag Harbor Baking Co
Invitation Designer: The Wedding Company