A beach wedding will naturally be beautiful, with the view and the sunshine, but your colors can go a long way toward turning beautiful into breathtaking. Here are the best beautiful beach wedding color schemes found on Pinterest.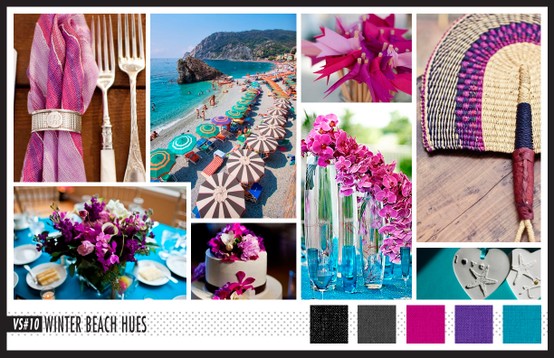 1. Teal and White
What goes better with the ocean than blue and white, right? This gorgeous scheme features a cool teal and clean crisp white combination that can be seen in the flowers and dresses. The pops of green makes it more refreshing!
Here's another lovely set of teal and white from K. Engel Photography.
For this styled shoot, the photographer wanted to create a wedding that took inspiration from the sea in a rustic setting with a nod to vintage deals. She kept the colors and tones blues and greens to reflect both land and ocean.
2. Muted Peach, Teal, Green and Gray
This gorgeous, boho-themed beach wedding features muted tones of peach, teal, green and gray. While most brides are nervous to pick more than two colors, these are all tied together very well with the flower arrangements and tabletop décor. These muted tones are beautiful for a beach wedding and are a real treat for the eye.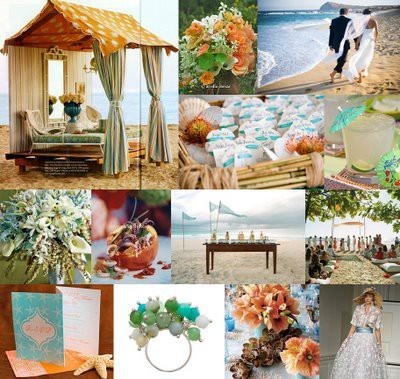 3. Purple, Pink and White
This beautiful, bright beachside wedding features tones in purple and pink as well as gray and white accent colors. Numerous colors work well together if they're tied together with certain multi-colored objects. Here, you'll see the napkins, fans, flowers, and signboards do the trick.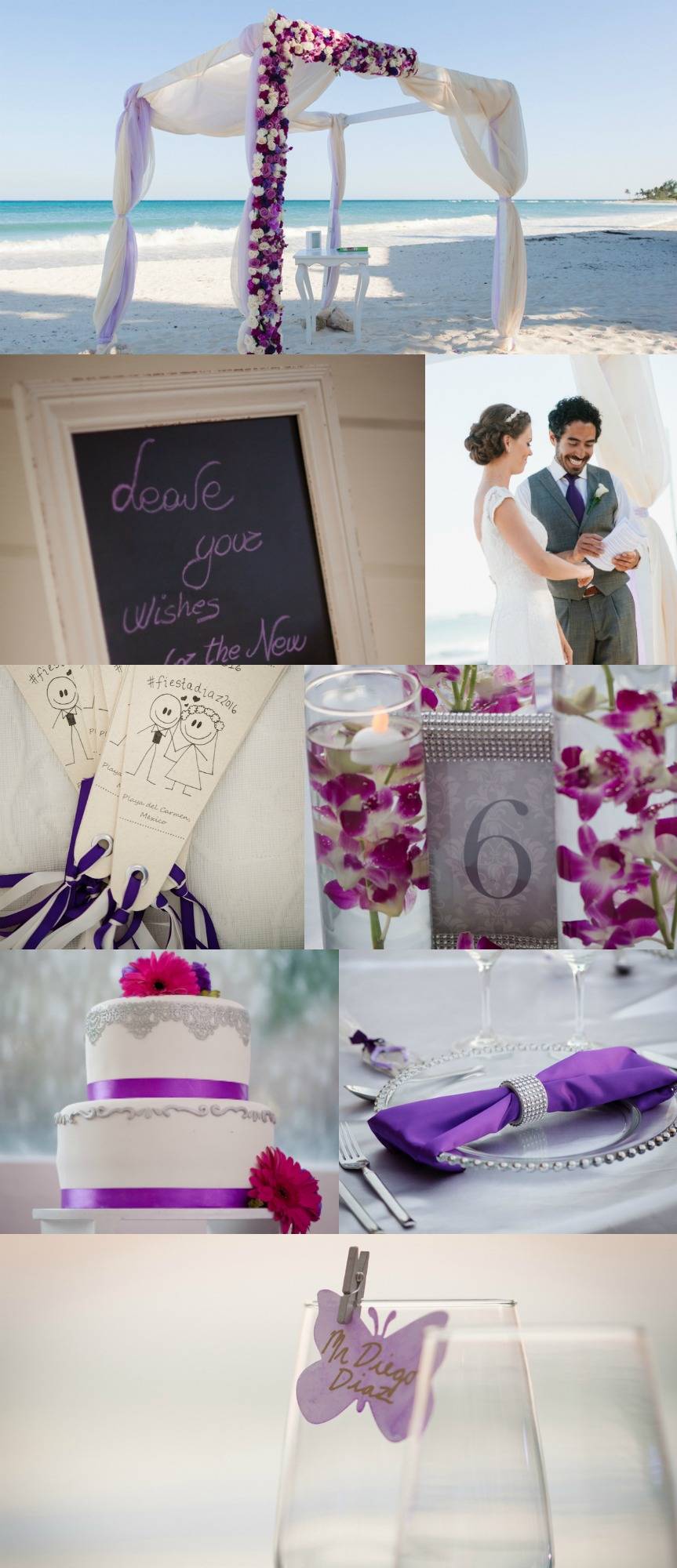 4. Red and Blue 
Most people don't think of red and blue for wedding colors, but this one worked out very well. The blue was used as a muted foundation while pops of bright red were all over the place. It has a very vintage feel and is truly beautiful.
5. Pops of Color
In this beachside wedding, color was used very well, in bright and vivid pops. The bright green, blue, orange and yellow looked fantastic against the washed-out look of the beach. As you can see, the colors are tied together in the maracas and the bride's lovely bouquet.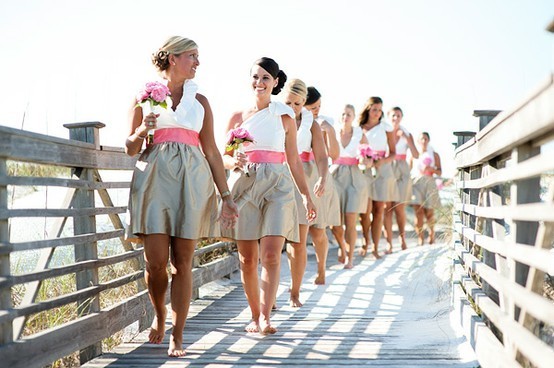 If you've settled on a beach wedding, but not on a wedding color palette yet, then this is the post for you. We've gathered some of our favorite wedding color palettes for a gorgeous beach wedding – see which one most appeals to you.
6. Teal and Lime Green
We love teal and lime green for a beach wedding. It's such a tropical look, with colors pulled straight from nature; the turquoise blue of the ocean and the gorgeous green of trees and grass. Beautiful accent colors that go well with this palette include silver, coral, and red.
7. Coral and Yellow
Coral and yellow are fresh, vivid colors that look exceptionally beautiful when paired. As you can see, varying shades of these colors look great together, and green is a fantastic accent color. This combination is also very tropical, and the perfect bright pop for a beach ceremony.
8. Pale Peach and Gold
Warm, beautiful colors, pale peach and gold looks absolutely stunning together. The overall effect is subtle and feminine, but drama can be added with accents in navy blue, emerald or gray.
9. Rich Purple and Turquoise
We love this look, especially for an evening beach wedding. This royal combination is dramatic and beautiful; perfect for the bold bride. It's still quite feminine and this palette looks great with silver and accent shades of pink.
10. Navy and Pink
Navy is a beautiful beach wedding color, as it already has that nautical look. Paired with shades of pink, it creates a gorgeous wedding palette that is not overly feminine.
11. Peach, Coral and Navy
This sun-kissed coral, white and navy combination has it's own stunning impression. The radiant peach with the serene mood of coral and navy displays the vibrant hue of pleasure, excitement and femininity.
12. Magenta, Pink, Marigold, Ivory
Photographer:  Brooke Mayo Photographers | Floral Designer: Bells and whistles at the flower field  | Floral Designer:Bells and Whistles | Hair Stylist: Bombshell's Studio | Cake Designer: just desserts | Ceremony Location: Ocean Atlantic Rentals | Reception Venue: Sanderling Resort and Spa
13. Blue and White
We will certainly take full appreciation of this gorgeous color combination. A subtle blend of warmth, royalty and excitement! Best fit for nautical themed weddings and a common choice for beach destinations. A totally lovely inspiration for anyone's dream wedding without a complicated color appeal!
Photographer: Limelight Photography | Reception Venue: Hyatt Regency Clearwater Beach | Musicians: Breezin' Entertainment & Productions | Cake Designer: Chantily Cakes| Location: Hyatt Regency Clearwater Beach Resort and Spa| Dress Designer: Mikaella Bridal by Paloma Blanca| Floral Designer: Rose Garden Florist| Dress Designer: Watters
These are our favorite beach wedding color palettes. Each palette is versatile and the look can be changed with the accent colors you choose. Which is your favorite color combination?