If you are planning on having a luxurious beach wedding, then Ron and Charlotte's beachside wedding will be an inspiration to you. With white, ivory, and champagne color schemes, it made for an elegant and gorgeous affair. Although it was very luxurious and sparkly, Ron and Charlotte still stood most on their big day! Browse the gallery below to sprinkle you with some inspiration!
Click image to enlarge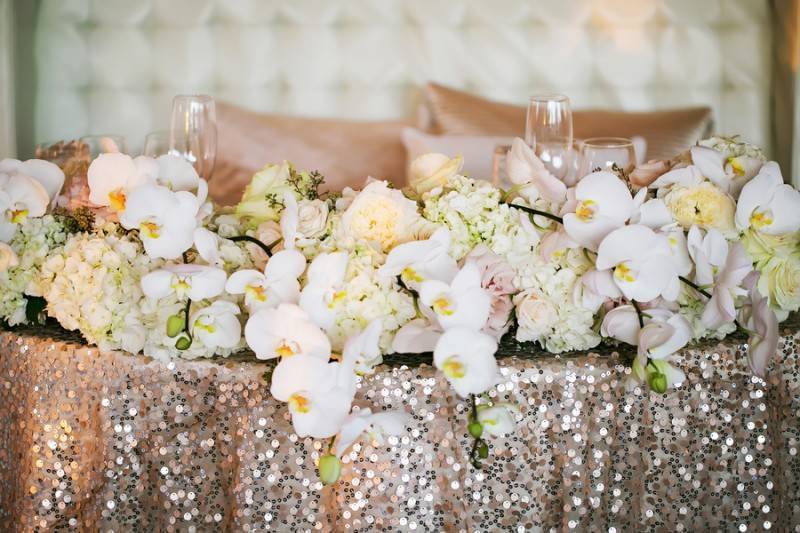 Like. Click to Vote
>
I guess the over all story for the album would be Luxury beachside wedding. We both had our ideas of what we wanted, combined it all, and it turned out better than we could have imagined with the help of all of our wonderful venders and planners. I wanted a beach wedding, Ron wanted luxury, such as The Ritz-Carlton offers, so it was a win-win. I ultimately decided against having it right on the beach because we wanted more formal attire, and didn't want our guest to be uncomfortable with the sand. I still got my fabulous beach sunset pictures right after the ceremony, so it worked out great.
The Outfit Inspiration:
We knew we wanted a semi-formal wedding. I wanted my girls to feel comfortable in their dresses, so I gave them a color pallete ( anything soft and neutral) and allowed them to choose their dresses. I liked the idea of them all having coordinating dresses, but not the same color or style. As for the guys, I liked the classic black suit and tie. They had a silver vest to add a little pizzazz. Ron stood out as the groom in his Hugo Boss tux, and phalaenopsis boutonniere. He also wore the classic black bow tie, that he learned how to tie himself just before the wedding. 🙂 My dress by Maura Bridal Couture was inspired by a very similar dress by Maura that I saw on Pinterest. I researched trying to find my "Dream Dress" that I saw on Pinterest and was able to track down a bridal store that carried the designer. Something Blue Bridal Boutique was in Orlando, over a 3-hour drive for me, but I couldn't get this dress out of my mind, even after going to 4 other bridal stores in my area looking for anything that similar. The dress was covered with beautiful beading. Fitted yet full of organza ruffles at the bottom and on the long train that is what made me fall in love with this dress. The halter style was something that was comfortable, yet flattering on me.
The Theme:
I would say our theme was a modern beachside wedding with a touch of vintage glam. Modern being the ghost chairs I loved and knew I wanted. Ron searched high and low until he found them at Finesse Events in Orlando. They also provided the acrylic tables that were mixed in at the reception. The acrylic Alter was from Custom Wedding Ceremony. The White leather love seats in our cocktail area, as well as our sweetheart table (which was to die for!) also added a modern flare; those were provided by Botanica International Design Studio. Also by Botanica, The sequin tablecloths spread throughout that gave a vintage glam feel, along with the many candles spread throughout. Botanica also provided all of The florals. They were soft and luxurious feeling, consisting of champagne, white, and ivory colored flowers such as hydrangeas, White garden and spray roses, ranunculus, with the addition of white phalaenopsis orchids that I felt gave it a touch of modern elegance as well.
I knew I wanted vintage style hair and makeup, which I think paired nicely with my dress. I adored my feather shawl, which was very vintage inspired. My accessories such as shoes (Betsy Johnson), purse, and jewelry were vintage glam inspired. The Swarovski crystal monogram runner and pillows were pretty glam as well. I used our monogram throughout the ceremony and reception areas. It started with our fabulous invitations by Invitation Galleria in Tampa.I was told by another place that I shouldn't use our monogram on our invitations. I didn't care if it was taboo; I wanted to use it so I did and they turned out awesome. Rons only request was that he have the heaviest weight available for the invites, we ended up with the 220 lb. And that, I believe, made a tremendous difference in the luxury of our invitations. You would have to feel these invitations to appreciate them; they seemed so beautiful.
We had many people, even a famous artist friend call and told us how impressed they were with our invitations. So glad I found them on The Knot and made the drive to Tampa. They say the invitation gives the first impression and the feel of your wedding. It's what gets your guest excited to attend, and I believe our invites did just that. As for Beach inspiration, we had the tropical setting already so wanted to limit the amount of tropical decor. The only beach decor we used were the white coral centerpieces, very modern with a single phalaenopsis orchid that were on the high cocktail tables. The funzy table linens blew in the breeze and were perfect. Also, Ron and all of his guys wore fishing hook cufflinks. Those were his gifts to his guys.( He bought my girls Tiffany bracelets, so thoughtful. 🙂
The Do-It-Yourself (DIY) Projects:
The DIY projects were the mini champagne bottles that we tied ribbon and place cards on for the assigned tables. The champagne doubled as favors to go home along with the mini chocolate wedding cakes. My bridesmaids helped with a few until we ran out of ribbon. (fairly quickly, I'm not good at measurements:) Ron and I ended up finishing the other 60 several days before the wedding because we couldn't locate the same ribbon that we started with. Lesson learned, always buy more than you think you need. The second day was the flip flop box, which was conveniently located in the ladies room, so no one got a picture of it that I know of, but it was quite popular. I had several ladies come up with me throughout the night thanking me for them.
Even though we weren't directly on the beach, it was an outdoor wedding and reception, and high heels as we all know look beautiful, but as a matter of fact, the flip flops ran out even before dinner. I thought I had plenty but was short a few I guess. You can buy the boxes with flip flops on Etsy. But, I liked the idea of having more than white, as some ladies may want black, silver, or copper to match their dresses. So I went to Old Navy and bought them when they were on sale, very inexpensive there. I tied the same cream colored organza ribbon on them with a tag that I not only wrote the size on but a little hand written thank you note. The box I ordered from a company on Etsy, it was wrapped in silk with a witty note to the ladies inviting them to take a pair.
Favorite Part of the Day:
My favorite part of the day, of course, was marrying my best friend and long time partner. Seeing our closest friends and families there to support us. And seeing all of those beautiful flowers and how all of the decors came together so beautifully. Ron and I both were really into the decorating aspect of our wedding, and we couldn't have picked a better florist and designer than Botanica. Zoe and her team are amazing to say the least. It's hard to pick a favorite anything; we loved every moment and all of the design aspects. For us, it was fairytale, we loved all of it.
The Highlights from the Ceremony & Reception:
It was a beautiful ceremony given by Dr. Steven Lortz. His words were perfect, although we chose traditional marriage vowels, we agreed for Steve to do what he does best and speak from his heart. Everyone loved him, and a few guest plan on using him in the future. To me, the highlight was after the kiss, being pretty nervous right before my walk down the aisle, and throughout the whole ceremony… I felt a sense of relief when Ron took my hand for the recessional. We had our string quartet play " I gotta feeling", by the Blackeyed Peas. It was upbeat and fun, halfway down the aisle I threw up my arm in excitement, just after getting my veil unstuck, It was so long that the beading got caught on something leaving the altar, and it jerked me back a little. That gave us all a little chuckle. But When I raised my arm and bouquet in the air, and Ron his arm, there was happiness, excitement, and relief all rolled into that one expression on both of our faces. And Our Photographers Rebecca and Michael caught it. Everyone says that is their favorite picture of our ceremony, and I love it as well.
As for the reception, I loved our first dance. Being that we both have two left feet so to speak, we decided to take a few lessons just before the wedding at Empire Ballroom Studios in Sarasota. Our dance instructor G did a great job choreographing a dance and teaching it to us in just a short 4 week period. My nerves once again got me, being in the spotlight isn't my thing I guess 🙂 So I forgot a few of the moves, but Ron kept us moving and is great at improvising thankfully. We skipped some of the most traditional things such as the bouquet and guarder toss. We pretty much danced the night away; we had an awesome band we booked through East Coast Entertainment called "We Got the Beat Band." Everyone loved the variety they played, and Ron's already planning on having them back for a one-year anniversary party! It went so fast, as all weddings do, we want to do it all again. That's why it's so important also to hire a good videographer.
We hired Imely, and received an amazing video of the whole day complete with aerial shots via his drone, in three weeks. I'm so glad we researched and found all of the great vendors we did. It was a special day, full of a lot of planning and preparation, and well worth it in the end. These memories will last a lifetime, we waited a long time to say "I Do," we wanted it to be perfect, and it was perfect "for us."
Most Memorable Moment:
I think the most significant part of the ceremony for me was the combining of glass crystals symbolizing our unity. We were going to do a sand ceremony like a lot of other beach weddings, but Ron, being the very involved groom that he was found this company online " Unity in Glass," that uses glass crystals to make a vase or sculpture after your wedding. It was perfect because we love art!! We especially love unique pieces of art, and how much more unique can you get than a piece formed out of the love and memories built around such a special day for your wedding. To me, that is a memory that will be cherished and is kept alive every time I look at the crystal vase.
Ron says that his most memorable part was seeing me for the first time standing at the end of the aisle. (he's still trying to rack up brownie points I think 😉 It's funny, though because I wanted to do a first look, for the simple reason of getting our photos taken ahead of time, and maybe taking a little pressure off. But Ron insisted that he didn't want to see me until the ceremony, so I'm glad that was memorable for him. I have to admit that I was so nervous that I couldn't concentrate on any one thing at that moment, so I'm glad once again, that Michael and Rebecca were there to capture that moment. The look on his face was sweet, a soft smile that said he was proud to be marrying me. 🙂 I love that photo.
VENDORS
Photographer: Limelight Photography
Equipment Rentals: Botanica International Design and Decor Studio
Floral Designer: Botanica International Design Studio
Equipment Rentals: Custom Ceremony Designs
Musicians: East Coast Entertainment
Equipment Rentals: Fenice Events
Cinema and Video: Imely Photography and Video LLC.
Invitation Designer: Invitation Galleria
Event Planner: NK Productions
Transportation: Siesta Trolley, Inc.
Musicians: Strings Attached, Inc
Event Venue & Catering: The Ritz-Carlton
Musicians: We Got The Beat
Officiant: Weddings By Lortz