Everything started with a private message from Ben. Ah, but thank God, Angela did not ignore the Army's message or this day would never ever happen — their big day! Their wedding had a lot of dancing and merrymaking with the aid of the couple's playlist (which are all ready for y'all to listen below 😉 ). The event was adorned with red, white, and blue. Red which is Angela's color and the overall scheme was derived from the American flag that is a representation of Ben being in the army. So, that's a win- win situation for the color scheme choice.I give them a hundred merits for such a beautiful wedding!! Congratulations, Mr. & Mrs. Riley!
Click image to enlarge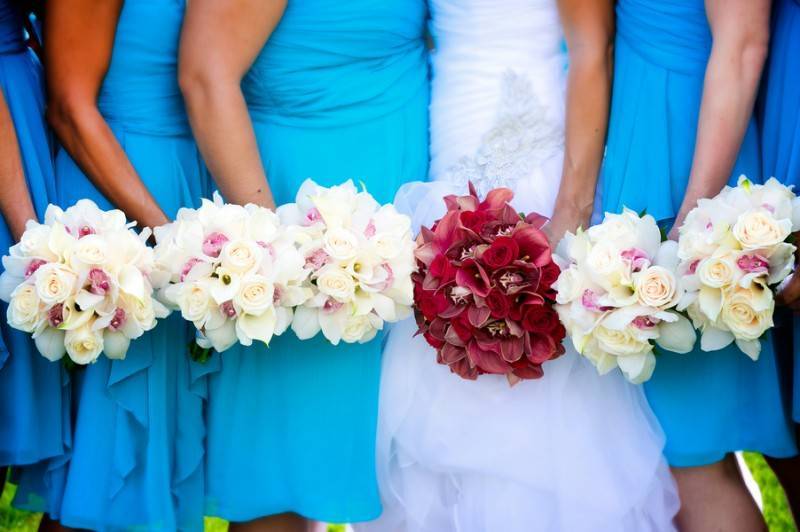 1

Like. Click to Vote
>
Our Story
Ben, being back from Afghanistan, and Angie, being in a new state, had both recently joined match.com in February 2012 when they first came across each other. On match.com, Angie received a message from a guy named Ben that said "hey, how are ya?" Angie is a sarcastic person and decided to respond to such a simple message because of its simplicity. Something about the message and of course picture, drew her in. From the moment they first started talking they never stopped. Ben went to Ft Benning, Georgia for a month before they even had a chance to meet for the first time. While Ben was away, their interest and attraction toward each other grew.
They talked to each other every day without fail, throughout the day over texts and at night on the phone. Ben and Angie would talk for hours each night on the phone trying to know everything about one another. The day had finally come for Ben to come back to Colorado Springs, March 29th to be exact, and the first place he went to was Angie's place. When Ben got to Angie's place it was a "love at first sight" meeting and Ben picked Angie up in his arms to give her a "finally" first kiss. Angie and Ben hung out that night with Shelly and her boyfriend, Eric. Once Ben walked into Angie's apartment that first night, he never left from that day on. Since the moment Angela and Bennett first met, they have never left each other's side.
We Are A Perfect Match
We are a perfect match due to our similarities in our need for adventure, traveling, adaptability, big hearts, and compassion for the things that matter most to us, but most importantly how we want to make one another happy every day. We understand it isn't always about the big romantic gestures and like to do the small things for one another to keep each other happy so the other knows they're truly loved.
The Proposal
While Ben was in who knows where California for NTC (pre-deployment training), we decided to book a trip to Aspen, Colorado for the weekend after he was back home. We arrived in Aspen on Friday, November 22, 2013 and the first thing I saw while walking into the condo was a beautiful bouquet of red roses, champagne, and chocolate covered strawberries (my favorite). We toasted to a wonderful weekend to come and looked forward to spending time together after being apart for a month.
The next day, we went skiing and snowboarding at Aspen Mountain all day. Then we went to dinner at a restaurant called Jimmy's and shared a lovely meal together in a romantic atmosphere. Ben suggested we pick up a bottle of wine after dinner to share by the fire pit at our condo and that sounded just perfect to me. We walked home in the snow hand in hand. When we got back to the condo we had to get Makena baby out of the room to let her run around a little while we sat by the fire outside.
As some of you may know, Makena is just full of energy and a spaz so she was just everywhere, but nothing could ruin our romantic night out by the fire. Ben thought it would be funny if he tied a reindeer bell to Makena's collar, but what I didn't know is that there was a ring attached to the bell and now Makena's collar. Makena was just going nuts trying to get the bell off her collar so Ben made me go get it off her collar. Fortunately, and not planned, the whole collar came off of Makena's neck so there dangling before me was a beautiful ring and Ben down on one knee. He again simply, but sweetly asked me "will you marry me Angie?" I said "yes, you know I will" and that was that.
The Planning Process
We got engaged in November 2013 and we had the wedding in July 2014. In 8 months I feel like I got everything I ever dreamed of planned. Too much time just makes me indecisive or change my mind. I really only cared about the location and venue so once that was done in December 2013, everything else was just easy.
The Best Advice We Received
I honestly didn't receive any advice because I didn't really ask for any. My wedding planner at the Four Seasons gave me advice here and there on what vendors to use and her suggestions ended up being great.
Tips & Tricks For Future Brides
The tool I really liked using for our wedding is any website that allows guests to RSVP via online because they do all the counting and keeping track for you. We used weddingwire, but I know there are plenty of other sites out there. Also having a wedding planner helped a lot in making the entire planning process and wedding less stressful and run more smoothly.
The Challenges We Faced
I had zero challenges while planning my wedding, so I can't really answer this question.
Wedding Decor Inspiration
My favorite color is red so I felt I had to include red somehow. I liked how light blue looks with red, how it makes red pop so that is what I went with the color scheme. Also Ben is in the army so I did like the red, white, and blue theme. The wedding decor was honestly not as great as it could've been because I didn't spend most of my time worrying about it. I chose basic things to make it look nice and worried about other things due to a destination wedding.
Wedding Outfit Inspiration
Ben wore his formal army uniform "blues" to represent his accomplishments.
Our Do-It-Yourself (DIY) Projects
We had cut out hearts for people to write messages on or to sign that worked as a guest book so we could make something with te hearts to frame and keep. Other than that there were no DIY projects.
Money Matters
We did not have an exact wedding budget and we spent most on hotel accommodations and expenses, the wedding party and immediate family were paid for by choice to stay at the Four Seasons since we had a destination wedding.
The Guest List
There were 150 people invited to the wedding and 65 people attended. We didn't narrow down our list, having a destination wedding pretty much took care of that for us.
The Songs
Processional songs
Jack Johnson – Better Together
Plain White T's – Rhythm Of Love
Brides entrance
The Honeymoon
Ambergris Caye in Belize
The Next Step
We are most excited for the future traveling plans we have and having a family together. We are most excited to keep building memories together.
Planning Advice For Couples
Don't make it stressful, it really doesn't have to be perfect. Remember the reason you're planning a wedding in the first place.
The Album Story
Two people found each other in what seemed like a hopeless place, but ended up being the right place to find the person they were meant to be with. To celebrate our love for one another our story was best told in paradise with those who matter most to us. We wanted the most intimate, romantic location, but also just wanted to have a good time in a relaxed and one of a kind atmosphere.
Highlights from the Ceremony and the Reception
The highlights were laughing at our flower girl not being able to walk all the way down the aisle since she was shy. Another memorable moment was the bride walking with her father down the aisle since that'll never happen again and now it feels like a dream. The ceremony was filled with highlights that all had to deal with dancing and talking with close friends and family.
Favorite Part of the Day
Saying our wedding vows to one another in front of the people we care about most.
A Memorable Moment
The atmosphere/scenery was a memorable thing for the ceremony. For us a memorable part of the ceremony was Ben's uncle marrying us and getting to say our own vows. The reception was memorable for many reasons. Dancing, laughing, and talking with our guests was intimate since the reception was outside and by the beach.
Our Wedding Video
VENDORS
Photographer:  Majesty Photo
Shoes: Antonio Melani
Event Designer: Carolyn Conway
Floral Designer: Country Bouquets Maui
Officiant: Dan Riley
Dress Store: David's Bridal
Caterer: DUO Restaurant
Event Venue: Four Seasons Resort Maui at Wailea
Ring Designer: Imperial Jewelry Co.
Cinema and Video: Ohana Films
Hair Stylist: Orchids Salon
Ceremony Location: Plumeria Gardens
Dress Designer: Vera Wang