Walking on the fine sand with a bouquet of roses in hand and dressed in a flaunt-worthy wedding dress, Amanda felt like and is one beautiful bride. And as blue as the sky, the bridesmaids' fashionable blue jay dresses took fine contrast with all the white used to perk up the venue. With their beach themed wedding, the bride and her groom, Geno, reveled in their moment of joy that we are sure would last until they both shall live. Congratulations, Amanda and Geno!
Click image to enlarge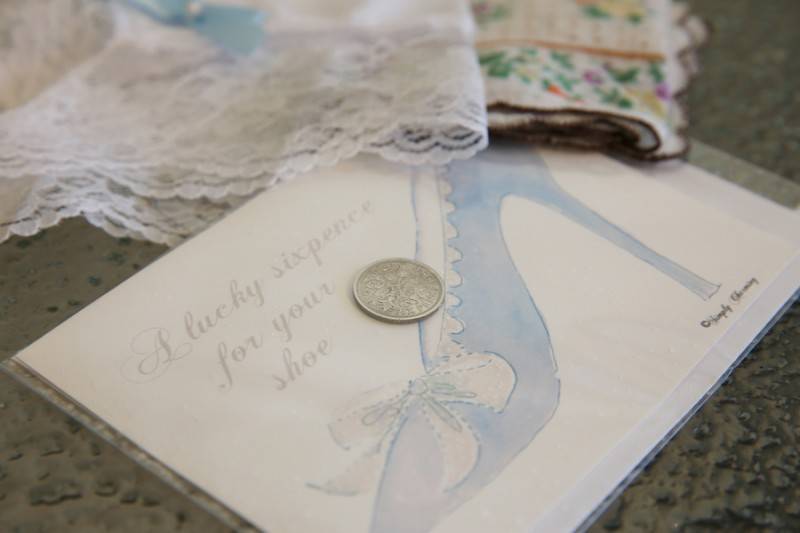 11

Like. Click to Vote
>
Our Story
We originally met 11 years ago through mutual friends, however my mother thought I was too young to date so we lost touch until we reconnected a few years later. We have now been together for almost 9 years. After proms, graduations, moving in together, and buying a house, we finally tied the knot!!!
We Are A Perfect Match
We have similarities yet our differences compliment each other well. Our common interests keep us connected while our different styles balance each other out. Geno says I push him to be the best he can be and he helps me to stay calm and see the lighter side of things. In the end we are better and stronger together than apart.
The Proposal
I (Geno) had a special plan for a romantic proposal which would have started with dinner at a nice restaurant. However, Amanda refused to leave the house and insisted on us spending a relaxing evening at home together watching movies. So I had to improvise and when she was making dinner I set up roses and candles downstairs. When Amanda came downstairs, I was on my knee with the ring and I said, "Will you marry me?" which was also spelled out on the floor with long stem roses.
The Planning Process
We were engaged for 1.5 years which seemed like the perfect amount of time. We did enjoy the wedding planning but it was very stressful. My mother was truly my wedding planner and my Aunt Beth, my maid of honor, was very involved. They were both instrumental in the process.
The Best Advice We Received
Things may go wrong but just go with it and be present and enjoy the take.
The Challenges We Faced
Planning a destination wedding can have many challenges. Fortunately, I was able to visit Puerto Rico prior the wedding and I often emailed and Skyped as needed with vendors.
The Theme
Our theme was definitely a beach theme, from the color of the dresses to the sand dollars for placecards that sat in a tray of real sand from the beach, to the ceremony programs that displayed the beach and waves in the background, to the candybar favors with a picture of the ocean on them and also incorporating the sand ceremony during the wedding ceremony.
Wedding Decor Inspiration
I spent many vacations in Puerto Rico and having my wedding on the beach there was always a dream of mine. Once we finalized that plan, the beach theme naturally evolved.
Wedding Outfit Inspiration
All the girls went dress shopping with me. We found the bridesmaids dresses the day we found my dress but we waited to order it. They tried on many bridesmaid dresses at Alfred Angelo but ultimately kept coming back to this same dress. We loved the blue jay color for a beach wedding. I had originally thought I would have royal blue for my wedding color so that bridesmaid dress ultimately picked my wedding color for me.
Our Do-It-Yourself (DIY) Projects
Yes my Aunt Beth, my maid of honor, is very creative and artistic. She included very unique details at my bridal shower and bachelorette party. And she wanted to help for the wedding too so she made my card box, the number signs for the table numbers, the Mr. and Mrs. Lawrence frame and a banner for the brunch the next day.
My mother's close friend, Bess, wrote the guests names in calligraphy on sand dollars. We had a big party back in Boston to celebrate with family and friends who couldn't travel and although that was stressful it was a lot of fun. We made picture boards to display wedding pictures for everyone to see and I wore by wedding gown and the bridesmaids wore their dresses again.
The Guest List
We invited around 70 and 50 people were able to make the trip. Our goal was to have a small. intimate, destination wedding so we kept the list to family and close friends.
The Songs
Processional- Cannon in D and Johanna Pachelbel
Brides Entrance- A Thousand Years by Christina Perri
Recessional- Marry Me by Train
The Honeymoon
We went to Vieques, an island of Peurto Rico for a few days and then returned back to Puerto Rico for a week.
The Next Step
Enjoying our time together as husband and wife and planning to start a family.
Planning Advice For Couples
It's worth it! The wedding planning process is overwhelming and can be draining. However, all the details do matter and it's important that you are true to yourselves about what you two want for your wedding. In the end, all the planning will all be worth it and it will be the most unforgettable day of your life.
Highlights from the Ceremony and the Reception
My grandfather surprised us with a beautiful ice sculpture at the wedding reception and he also had a firework show the night after to conclude the weekend activities. It was an awesome surprise and was so unique to our wedding! It was very special and meaningful to us.
Favorite Part of the Day
We decided to write our own vows, which was very meaningful. Weddings are such a special time to share with family and close friends but in that moment it truly felt like it was just the two of us, so in love, so happy.
A Memorable Moment
Although my husband and I come from different backgrounds, I am Jewish and my husband is Catholic, I was fortunate enough for my husband to embrace my family traditions. Both parents walking me down the aisle, the blessing over the wine, the signing of the Ketubah, the breaking of the wine glass, and the blessing over the Challah are all Jewish traditions that my husband was supportive of us including. We also included his father in reciting the poem, Marriage is also a Promise of Love by Edmond O'Neil.
Our Wedding Video
VENDORS
Photographer:  Kristin Griffin Photography
Dress Designer: Alfred Angelo
DJ: Big J Music Services
Bakery: D'lights Cakes and Desserts
Cinema and Video: Ferrer Video productions
Event Venue: Intercontinental Hotel
Jewelry: Keegan's
Floral Designer: Lorraine's Flowers
Invitation Designer: Zazzle