When you feel like you have found someone, you get that unexplainable feeling. It would be as if everything in your life flashforward to moments you have never seen but you know its possible to happen. Marissa and Jeff's story didn't quite fall far off, for them everything just clicked it was like they knew they were for made each other. The two had a beach themed wedding that was cleverly thought of – starfish and coral accents, bird names as table names. The motif depicted that of a sunset's color; it was warm and happy. Just like how they are on that day. Congratulations Marissa and Jeff!
Click image to enlarge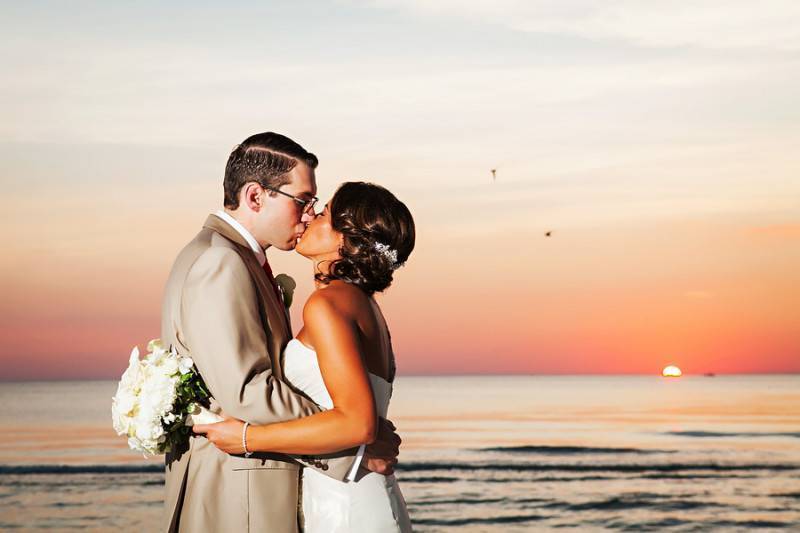 1

Like. Click to Vote
>
What is your story as a couple, how did you meet & fall in love?
Jeff and I met over two years ago; we had our very first date at Bryant Park Hotel. That spot would be the place we then got engaged.
What makes the two of you a perfect match?
We met at a point in our lives when we both knew what we were looking for in a relationship and partner. Everything just clicked, and it was so easy, which is why we knew we were perfect for each other. We are opposites in ways, but that is what keeps us balanced.
How did he (or you) propose?
We had gone to see a Broadway show in NYC and then to a delicious steakhouse dinner. Our first date was in Bryant Park, and Jeff proposed while we were walking through the Bryant Park Christmas Village, near the ice skating rink. I got down on one knee and asked the action.
How long was the planning process? Did you think it was enough time?
We booked the event of November 2013 and we were married October 2014, so almost a year What was the best advice you received when you were planning your wedding? To be organized. Planning a 'destination' wedding was a little difficult, but having the Ritz provide their vendor recommendations was very helpful
What tips & tricks (can we use "hacks"?) can you share future brides that you have learned during and after your wedding?
Having vendors that have worked previously together creates a great flow to the wedding day What were some challenges you faced while planning your wedding & what did you do to address them? While booking hotel blocks, we realized we had not reserved enough rooms at the Ritz, where the wedding was held. When then tried calling different hotels but there was an event going on in Sarasota that week. We eventually were able to have our rehearsal dinner at the Lido Beach Resort which was then able to provide our guests an additional room block
What inspired your wedding décor? Why did you choose the things that you did?
Our color was strawberry, coral, and gold. I grew up in Sarasota on the beach. Then went away to college and ended up living outside of NYC. The colors are chosen what I pictured if I was to have a beach theme wedding.
What was the wedding budget?
We started at 60K that exceeded that
Where did you save the most money?
My old roommate does have a graphic design company and does wedding invitations. She did such an amazing job and everything she worked on.
What was the biggest expense?
The Photographer, which was totally worth it.
How many guests were invited in your wedding and what was the final guest count?
We invited 130 and had 88 guests at the wedding.
How did you narrow down your list?
Family and close friends. We realized we couldn't invite everyone
What songs did you use during the ceremony?
Our wedding song was "all of me" by John Legend. Then the band played "the way you look tonight" for the father/bride/ mother /son dance. Our band was amazing, and we receive compliments till this day.
Where did you go on your honeymoon?
We went to Maui – Four Seasons and Kaui,- St Regis. Loved them both!
What are you most excited about for the future?
Buying our new home and starting our family.
Do you have advice for couples still in the planning process?
Just enjoy the process because you might wish it to be over, but once it is you'll find yourself saying what next!?
What is the overall story for this album?
I would say the happiness and excitement of the day. The pictures that I knew I wouldn't love are the ones where we were asked to pose. My favorites are the ones where Jeff and I are just laughing with each other
What inspired the wedding day outfits?
The girls wore Jcrew bridesmaid dresses. Each dress was a different cut. The men wore tan suits that went with their strawberry ties
What was your favorite part of the day?
Finally getting to see Jeff! And dancing at our wedding with our family and friends!
What were the highlights from the ceremony & reception?
The most amazing wedding and perfect sunset
Was there a theme for the ceremony and reception?
Starfish, coral with gold accents. Also with our theme of donating to the "save the birds" foundation in lieu of wedding favors, each table name was a bird name. I grew up in Bird Key and used the street names from the island to name the tables
What part of the ceremonies do you think was the most memorable for you? (& your guests?)
The amazing west coast sunset. Everyone watched the sun drop right into the ocean
Anything else you would like to add?
If only I could redo the entire day all over it! It was the best day of my life to marry my best friend
VENDORS
Photographer: Limelight Photography
Tuxedo and Mens Attire: Mens Warehouse
Floral Designer: Flowers by Fudgie
Bridesmaid Dresses: J Crew Bridal
Bridesmaid Dresses: J. Crew
Shoes: Kate Spade
Event Venue: The Ritz-Carlton, Sarasota MSE