In Carrie and Rob's sandy beach wedding, there was sand everywhere except the sand ceremony. This was a certainly a creative twist. Instead of using sand to symbolize their union, they used the colors of their wedding and painted it onto a canvas. It's also such a unique memorabilia from their special day. Every wedding is a piece of art created by the couple and this one is probably framed and hanging on Carrie and Rob's wall right now.
Click image to enlarge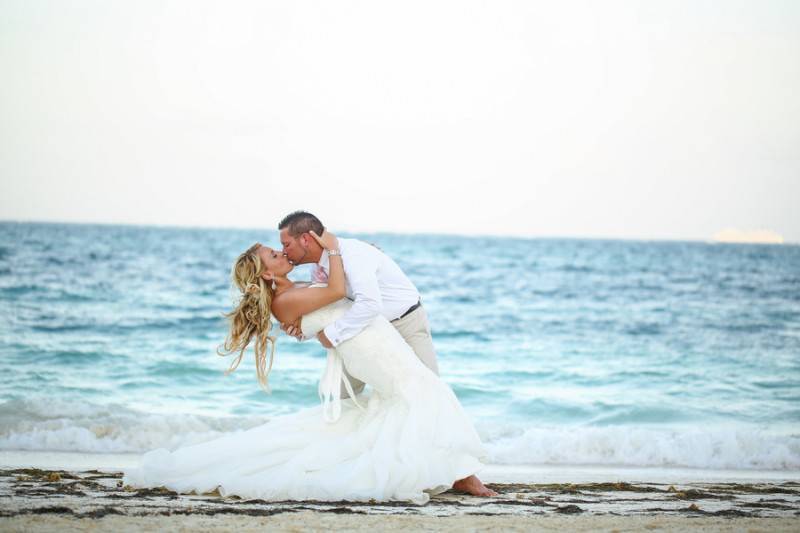 Like. Click to Vote
>
The Album Story:
Carey and Rob are adventurous people and wanted close friends and family to experience that with them. From the days before the wedding where they went on several excursions bringing both families together, to the day of the wedding which lasted long after the reception was over. Dancing went well into the night at the small club located on the resort's property.
Wedding Outfit Inspiration:
The wedding day outfits were inspired by a peony. The soft color of the blush was enhanced by the natural teal green of the ocean. The flowing skirts of the bridesmaids dresses and lightness of the groomsmen suits were perfect for the hot weather.
Highlights from the Ceremony and the Reception:
The highlights were the blessings given to the couple during the ceremony, along with the steamy kiss that happened as their first man and wife kiss! The highlights of the reception were the awesome dancing and also the 'tequila train'.
Favorite Part of the Day:
My favorite part of the day was the painting project they did. The combined the beachy colors of the ocean and sand to create one painting, instead of the traditional sand project.
A Memorable Moment:
The most memorable would have to be the first dance as husband and wife. They looked very much in love!
VENDORS:
Photographer: Amber Flynn Photography
Event Venue: Dreams Cancun Resort and Spa