Click image to enlarge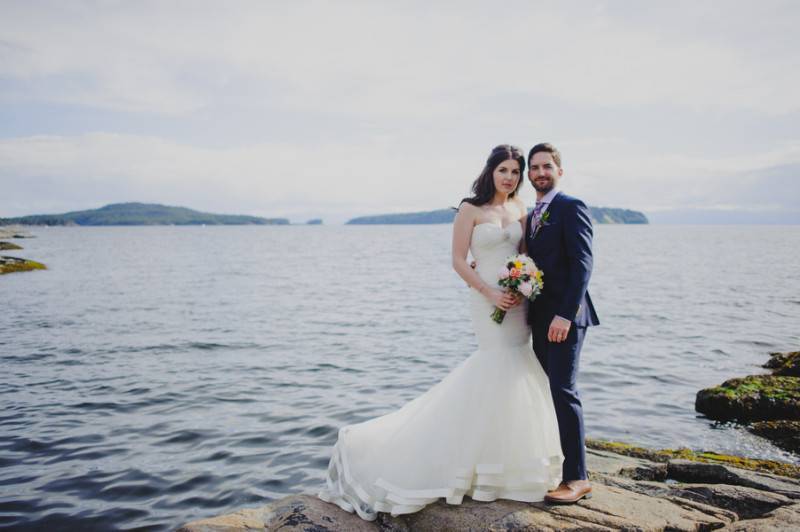 Like. Click to Vote
>
This beautiful and intimate wedding of Jaime & Des is something we can't afford for you guys to miss. We love how they didn't hold back when it came to elegance and style even though they only intended to invite their immediate family (which totals up to 10 people). I am specially gushing over our bride's ensemble – with her mermaid style gown with a sweetheart neckline and her bouquet which she found in Pinterest and was the basis of the rest of the day's details.  But really, you'll not only appreciate this feature because of all the visual details but we're sure you'll also adore the way our bride answered our questions. Congratulations Jaime & Des!
While we've had our ups and downs, it never really seems hard to love each other, and we always want to do our best to make the other happy – Jaime (Bride)

Bride
What is your story as a couple, how did you meet & fall in love?
We met when we were in high school, Des was in grade 12, and I was in grade 10. We both knew who the other was, but never really talked. Des thought I was pretty, so he got my MSN Messenger contact through a mutual friend, and started messaging me. I tried talking to him, although he would never really say much, and I started
to think he was creepy, so I blocked and deleted him. We didn't talk or see each other again until 5 years later when we reconnected at a Super Bowl party. I saw him
and thought he was really handsome, and asked my friend if he was single. He said the moment I walked into the party he knew I was the one, however we didn't talk at all that night. It wasn't until two or three weeks later when we went to a bar with a group of friends when he finally started talking to me. He offered me his jacket
while we were waiting to get in, and by the end of the night he had asked me for my phone number (which he was sure was fake).
What makes the two of you a perfect match?
I'm not sure what exactly makes us the perfect match, but Des and I are truly best friends, and always have so much fun with each other. Whether it's sitting on the couch watching movies, listening to music and dancing in our living room, we just enjoy being together. I can honestly say that I have never had as much fun with anyone else as I do with him. We both love the other unconditionally, and we honestly seem to love each other more than we did the day before. While we've had our ups and downs, it never really seems hard to love each other, and we always want to do our best to make the other happy. Our family, friends and co-workers find it hard to believe that I wake up early every morning, just to make sure he has coffee, breakfast and his lunch together for the day. But it's those little things that we both love doing for each other, because we always let the other know that we appreciate everything that we do.
How did he (or you) propose?
After 6 years together, Des proposed in August 2013 while we were on our annual trip with his family to his godparents' house in Madeira Park. He wasn't acting like himself the days leading up to the trip, and I was starting to get frustrated because I couldn't tell what was bugging him. Our first morning in Madeira Park, Des had asked me if I'd like to join him for a walk along the water. This should have been a red flag in itself, as Des hates going for walks. I wasn't about to pass up this rare opportunity, so I agreed. By the time we were ready to go, the sky opened up and it started pouring, so I suggested that we just stay in and relax with his family (Proposal Plan A). A few hours later, the rain had eased up and Des asked me to join him down on the dock. Just as we arrived down at the dock, the rain started again. I wanted to go back inside, but Des insisted that we stay. I reluctantly agreed, however just at that moment some friends pulled into the bay on their boat (Proposal Plan B). Another hour or two passed and Des was wandering around the house anxiously. He called me on my cell and asked me to help him move the cooler that was at the back of the house. I told him to ask his brother for help(his brother was the only one who knew what was going on), but he insisted that I come to help instead. I reluctantly put on my shoes and went to find Des and the cooler (Proposal Plan C). When I got there, he was already down on one knee.
How long was the planning process? Did you think it was enough time?
We starting planning the wedding in September 2013, however because we chose the Rockwater at Secret Cove, they really took care of planning for us. All we really had to do was pick a date (May 9, 2014), and deal with decor (which was minimal), clothing & accessories, and the logistics of getting to and from the venue with our
family. I felt like we had more than enough time to plan.
What was the best advice you received when you were planning your wedding?
Enjoy every moment of planning your wedding and don't stress… It goes by so fast.
What tips & tricks (can we use "hacks"?) can you share future brides that you yourself have learned during and after your wedding?
Do as many DIY's as you can, and REALLY shop around to save money.
What were some challenges you faced while planning your wedding & what did you do to address them?
Because we eloped, I can honestly say there were no challenges. Making the decision to elope was the greatest idea we could have had, and including our parents and siblings made the perfect.
What inspired your wedding décor? Why did you choose the things that you did?
I saw a photo of a bouquet that I loved on Pinterest, and went from there. I wanted everything to be really simple and relaxed.
What was the wedding budget?
We didn't have an exact budget, but we wanted to keep it well below $10,000. We are new homeowners, and couldn't justify spending tens of thousands of dollars on one day.
Where did you save the most money?
Making the decision to elope.
What was the biggest expense?
The elopement package with the resort, and my dress.
How many guests were invited in your wedding and what was the final guest count?
We only invited our parents, siblings and their partners, so when it was all said and done, there was 10 of us at the ceremony.
How did you narrow down your list?
We wanted to keep it very intimate and relaxed, so it was an easy decision just to keep it to our immediate families.
What songs did you use during the ceremony?
None… the sound of the ocean was more than enough for us.
Where did you go on your honeymoon?
We still haven't gone on our honeymoon, but will likely go to Hawaii in early 2015.
What are you most excited about for the future?
Starting a family… we can't wait!
Do you have advice for couples still in the planning process?
Remember this day is for YOU. Don't feel pressured by what other people want for you on your wedding day.
What is the overall story for this album?
It was a very relaxed, simple elopement.
What inspired the wedding day outfits?
We really just went with what appealed to us.
What was your favorite part of the day?
After the ceremony and taking photos, we all sat together on the wedding platform and had a couple drinks and hung out as a family. It was so relaxed, and felt so good just to enjoy the day with our family.
Was there any Do it Yourself (DIY) projects? If so, can you describe them in detail?
The fabric banner that we used as our "altar". I purchased some fabric (mint cotton, peach cotton, and muslin), 1″ wide lace and thick twine. I cut up the fabric into 1″ strips (they were about 6′ long), and the lace was cut to 6′ in length. The twine was cut to 12′, and I tied the fabric and lace to it until the 12′ length of twine was mostly full. I then folded the twine in half and tied it together so it looked nice and full. I took two thick wood dowels and tied the fabric banner to it. I put the dowels in two tall and narrow planters and filled it with rocks so the posts would stay up. My husband and brother-in-law then reinforced the fabric banner once it was erected at the wedding platform at the resort.
What were the highlights from the ceremony & reception?
After the ceremony and taking photos, we all sat together on the wedding platform and had a couple drinks and hung out as a family. It was so relaxed, and felt so good just to enjoy the day with our family. After dinner, we all went back to our tenthouse and had a few more drinks, and just enjoyed celebrating the special day all together.
Was there a theme for the ceremony and reception?
To be relaxed and simple.
What part of the ceremonies do you think was the most memorable for you? (& your guests?)
The whole day was really memorable. The staff at the Rockwater were incredible… They were always there when we needed them, but also gave us our privacy when we needed it, without having to tell them.

Vendors
Photographer: Coco Photography
Reception Venue and Floral Detail: Rockwater Secret Cove
Hair:  Amanda Cockroft – Great Clips
Make Up: Bride
Dress: The Bridal Gallery
Shoes: Betsey Johnson from Zappos