Beach weddings are gorgeous and if you have the right baker, your cake can be gorgeous as well. In addition to a truly artistic professional, you'll need some reference material for them as well. Here are 5 ideas for the perfect beach-themed wedding cake.
The Classic Ivory and Seashell
This is a beautiful, classic beach-themed cake. It features ivory colored fondant with beautiful seashell embellishments. It works well for any color palette, including the white traditional look.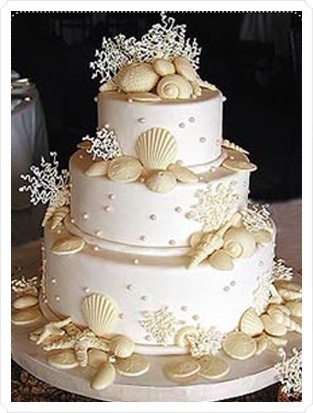 The Beautiful Aquarium Cake
If you're looking for a little more color with your beach-themed cake, this gorgeous aquarium cake will do the trick. With rich colors reflected in the coral and exotic sea creatures, this is a winning cake for sure.
The Nautical Cake
If your beach wedding will be more of a classy nautical themed wedding, then this is the perfect cake. It's beautiful and beach-inspired without the traditional seashells. It features beautiful nautical rope embellishments and a floral topper.
The Abstract Cake
If you want a beach or nautical themed cake but don't want to go overboard on the beach theme, you can go with an abstract cake. This one is really neat because it's obviously a beach cake, but it's very simple and easy to implement your wedding color palette.
The Wave Cake
Finally, this beautiful cake is very beachy, but also provides an opportunity for the decorator to really embellish it. It features wave cutouts and seashell embellishments.
These beautiful cakes are just a few choices you have for beach-themed cake ideas. Use them for inspiration or choose one of these beautiful designs for your own cake.