Some couples crave for a place where it is always up and pumping. Darrell and Janine shared a love for music particularly Jazz; the most calming genre of music there is probably which explains their fondness of a serene place like Cape May.  The town depicted what these two love about life and decided that it was a great idea to do their engagement photoshoot there. The two wanted a vintage with a modern twist kind of vibe, casual and candid. I prefer it when couples opt for candid shots rather than staged, to me it relays more story and feeling (But hey, to each his own right? *wink*). Check out the lovely couple's calming and lovely photos below. (Cue Harry Cornnick Jr.'s We Are In Love)
Click image to enlarge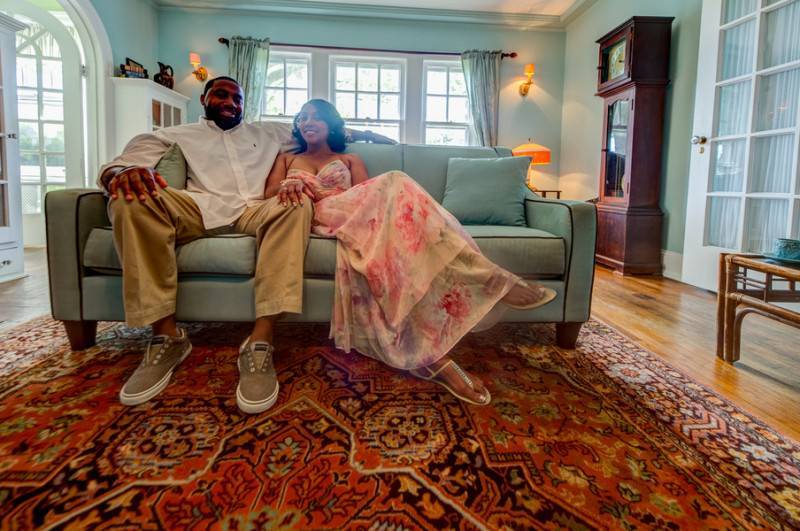 Like. Click to Vote
>
What did you want to portray in your engagement shoot?
To Capture the Essence of Love, Enchantment, Fun and Serenity.
Why did you choose the location?
My husband and I are Jazz enthusisasts. We visit Cape May, NJ each year for the Exit 0 Jazz Fest. We absolutely fell in love with the peaceful serenity of the town and found its surroundings to be romantic and charming. Two months before my husband prosped we walked along the boardwalk talking about sharing our life together.
What inspired your outfits for the engagement session?
We wanted something that had a vintage look with with a modern twist. (basically a Ralph Lauren Ad, lol). We nailed it!
How did you feel at ease with all the posed shooting?
We wanted to be as comfortable and relaxed as possible. Our photographer let us be "us". Have fun.
If your wedding already occurred, would you mind telling us more about it?
Our Wedding on November 7th, 2014 was a classy, graceful, vintage, harlem renaissance, peacock-inspired wedding. It took place at The Merion in Cinnaminson, NJ. The ballroom had a cascade dome that covered the dance floor. Dramatic effects of the first dance was the highlight of the evening.
VENDORS
Photographer: Rashad Pleasant | Photography
Other Location: Cape May State Park