Click image to enlarge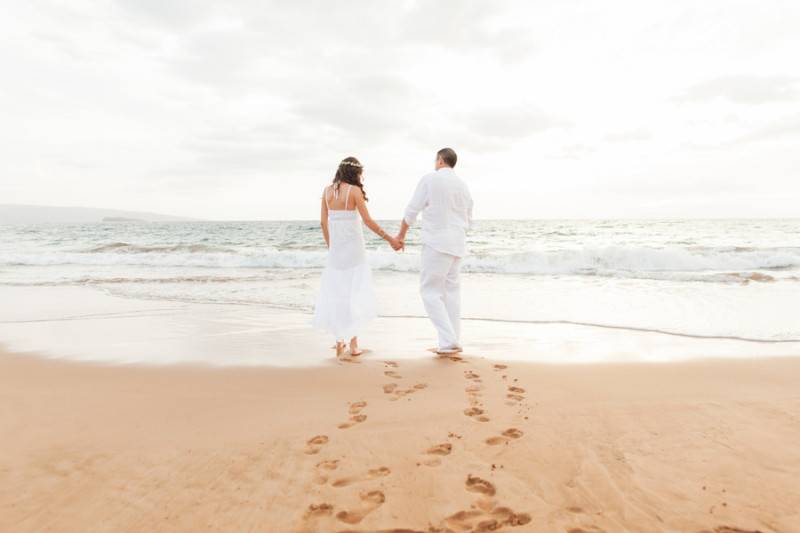 Like. Click to Vote
>
Any color that's paired with the beach is bound to be lovely. But having an all white themed wedding is just heavenly and it creates a magical vision. It was so refreshing to flip through Cristiane & Al's album which was gorgeous in it's pure white glory. Everyone in their guest list faithfully followed through the dress code and it made for uniform and beautiful pictures. So despite the simplicity of this event, we actually loved it even more. Congratulations on such an amazing wedding Cristiane & Al!
Photographer:
We met Cristiane and Al for their Maui Wedding on the secret side of Po'olenalena Beach. They were so relaxed and in love that it was a dream photographing their amazing chemistry. The entire wedding party all coordinated in white making the whole wedding look really gorgeous yet simplistic. Cristane's custom bouquet from Dellables looked amazing next to this tall stunning bride and her haku was a great accent. Simple Maui Wedding did a great job coordinating the wedding and Reverend Joe Miles not only gave a wonderful ceremony, but also joined in on the white clothing motif.
The groom looked extremely handsome in white linen keeping with the theme of the event. The brides jewelry was stunning yet very simplistically beautiful, we just loved her bracelet.
The entire event was very simple focusing on the wedding and the people. The white theme really made it stand out from the Maui setting creating a gorgeous overall look.

Vendors
Photographer:  Karma Hill Photography
Floral Designer:  Dellables
Other Location:  Po'olenalena Beach
Officiant:  Reverend Joe Miles
Event Planner:  Simple Maui Wedding