Joyce ♥ Matthew
How It All Began
From the bride:
We met in 2010 and shared a love for baseball as we both grew up loving our teams (San Francisco Giants for me, Seattle Mariners for him). We remained friends the next 3 years. In early 2013, Matt saw a Facebook post that I was recently in Beijing for work and he was preparing for his own work trip to China and asked whether I have any tips to share. I suggested dinner and we started to spend more time together after he came back from his trip. I really enjoyed spending time with him to and we started dating in May and I've enjoyed every moment with Matt since then.
How He Popped The Question
Sunday, January 25, 2015. After dinner at Ohana in Belltown, Matt was driving Joyce home when he made a stop at Green Lake Park. He suggested that they take a walk around the park so Joyce could practice for the Hot Chocolate Run 5K that she signed up for. Joyce was wearing a dress and did not have walking shoes on but went along with it because it was such a clear and warm night in Seattle, which was rare for a January! There were stars in the sky and the moon was shining brightly. Matt took Joyce to the dock and surprised her by proposing with a beautiful ring in a LED lighted ring case. The ring shined brilliantly under the dark sky and she said Yes!
The Happily Ever After…
Click image to enlarge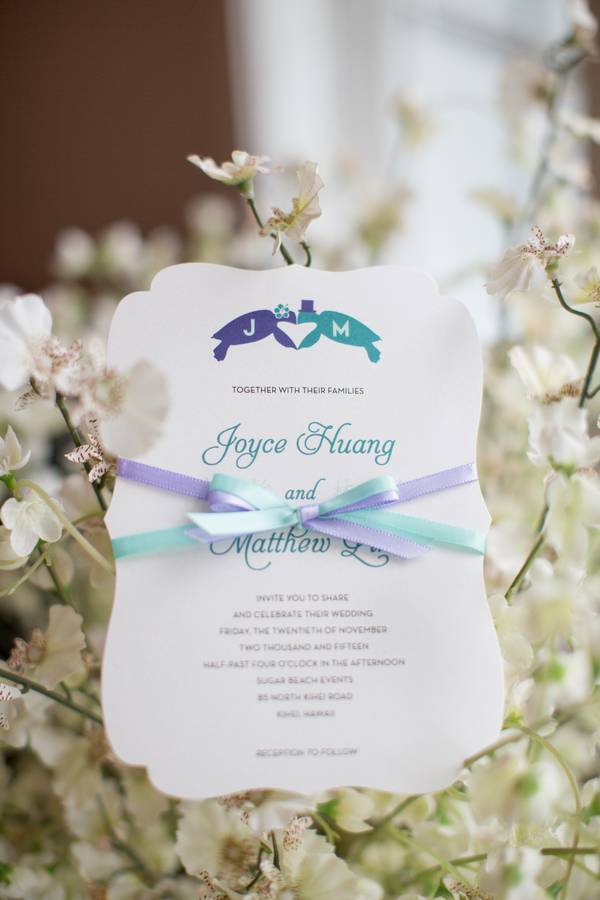 Like. Click to Vote
>
Extra Special Wedding Details
The wedding venue. We love Hawaii and especially Maui – we had visited together in 2014. Most of our families/relatives haven't been to Maui so we thought it would be a great opportunity to bring them all there. Most of our families were flying in from Seattle, San Francisco, Taiwan and thought it would be great to have everyone meet in Maui. One of the things that was important to us is to have great food at the wedding for our guests to enjoy! We read so many great reviews about how amazing the food at Sugar Beach Events is. We also love that the venue offers the signature package which includes most of the things we need for the wedding! It made planning a destination wedding much easier for us. 
The wedding theme. We knew we wanted a shade of purple as one of the wedding colors as we are both Washington Huskies. Joyce also loves seafoam green and wants it for a wedding by the ocean and thinks it looks great with a dusty lavender shade so we decided on those as the wedding colors!
The bridal style. After trying on a couple different styles at stores, I knew I liked the trumpet style and wanted something that has a beautiful train but still light enough to carry to a destination wedding. When I tried on the Robin Jillian dress I knew it would be perfect for the wedding day!
The DIY Projects. My sister-in-law/bridesmaid Amy designed our Save the Dates and our Invitations. She came up with the turtle logo idea and used it for our invitations, decorations, favor tags, place cards, and cake topper. We loved it and the guests did too! I took a calligraphy class and did calligraphy on our invitations and the place cards which we thought was a good personalized touch for the wedding. As we are both big baseball fans, we knew we wanted to incorporate some baseball elements to the wedding. We decided on getting a personalized "LIN 15" jersey as the guestbook for people to sign their names. We also got personalized jerseys of our teams (Giants / Mariners) to wear as we made our grand entrance into the reception. Our engagement photos were baseball-themed and taken at Safeco Field in Seattle so we had those on display at the wedding.
Favorite part of the day. We liked the idea of an unplugged ceremony and glad that our guests cooperated. It was so nice to see everyone's faces and emotions while walking down the aisle with my dad. We were so blessed with the weather clearing up before our ceremony and that we had a beautiful sunset that evening! It was so rainy the day before so we were mentally prepared to have an indoor ceremony. We were so happy that everything worked out! It was really cute that Ethan, my cousin Sherry's 1-year-old son picked up the garter from the ground!
The Bride's Advice

♥ Find a good wedding coordinator and put your trust in her! With destination weddings, it's difficult to be totally hands-on but having an awesome coordinator who communicates well will help a lot. I did a 20-page PDF document for our wedding party and parents detailing the wedding weekend events so they know exactly where they need to be and have the contact information of others in the wedding party, vendors, coordinator, in case of an emergency. They thought it was very helpful as they were all flying in from different cities. — Joyce

Money Matters

Wedding Budget: $20,000 – $45,000

VENDORS
Photographer: Kaua Wedding Photographer
Reception Venue: Sugar Beach Events Hawaii
Caterer: Sugar Beach Events Hawaii
Event Planner: Sugar Beach Events Hawaii
Event Designer: Sugar Beach Events Hawaii
Floral Designer: Country Bouquets Maui
DJ: DJ Dan Maui, LLC
Ceremony Location: Sugar Beach Events