Click image to enlarge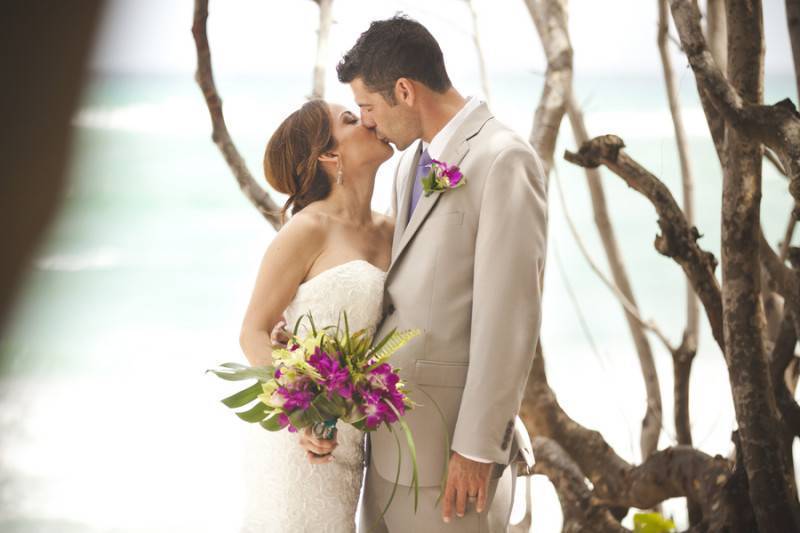 Like. Click to Vote
>
Traditions wouldn't last through the ever changing times if their value was minuscule. So there's a reason why wedding traditions are still widely done generations after generations and it doesn't even matter whatever the wedding setting is. And for our featured wedding today, our couple showed us the beauty and importance of the classics. When they did the traditional sand ceremony with their kids, it was an amazing symbol that their family is, as the saying in the tray implies, united as one forever. And aside from this, the aesthetic value of this wedding was nicely accented by rich blues. A perfect beach wedding indeed – almost like paradise. Congratulations Lymarie & Sam!
Photographer:
What would you say, the overall story for this album?
I met Lymarie and Sam, years ago. Literally, years. When I first started my adventure into becoming a Professional Photographer, Lymarie and Sam were one of the early Lovely Bee Photography supporters. And once we met up for their beautiful Jupiter Inlet Engagement Session, and I got to spend more time with them, I knew their Wedding Day would be one for the record books. My intuition was right. From the second the day began, the happiness and love could be felt all around. Lymarie's infectious laugh and Sam's laid back personality are the perfect match – and you can see their love just as much as you can feel it! This fun couple said "I Do" on a sunny, windy morning, surrounded by friends and family by the sea. It was a beautiful experience, and I hope you enjoy some of my faves from their big day!
Bride:
What inspired the wedding day outfits?
We decided on casual elegant attire, we wanted our guests to feel comfortable but to look nicely dressed at the same time. This was decided because of the fact that we wanted to do a Sunday Brunch instead of a Friday or Saturday night wedding. Most of our wedding guests were coming from out of town and we wanted to have a family/close friends weekend getaway. The wedding was the closing of that fantastic weekend.
What was your favorite part of the day?
Our favorite part of the day was being able to see all of our closest family and friends together and share time with them. And of course being able to get married!!
Was there any Do it Yourself (DIY) projects? If so, can you describe them in detail?
We wanted to have unique and different details. Our escort cards were maracas and we purchased them from
Oriental Trading. To give them the "tan" look we stained them and then added the card with our guest name and
table assigned. The cards were made on the computer. The ring pillow was made by my friend who came from
Puerto Rico to help with the last minute details. Our guest book was mango shaped yellow cards because it is a
tropical fruit and Sam and I are mango freaks, we LOVE mangoes!! Each one of our guest has to write a message
and a wedding guest who is a painter will create a mango tree adding our mango cards as part of the drawing for
us to custom frame and have it at home.
What were the highlights from the ceremony & reception?
Highlights from ceremony included my son walking me down the aisle, the sand ceremony with our children and
when we released white birds in memory of all our grandparents. Highlight from reception was when all couples
were called to the dance floor for an old soft song that was sung by a Puerto Rican singer that was requested by
us.
Was there a theme for the ceremony and reception?
Our ceremony and reception theme was Tropical Caribbean. We chose that theme because I am from
Puerto Rico and the Caribbean is synonymous with happiness, good times, bright, happy colors, beauty and
paradise. We wanted to transmit all of that to our wedding guests who came to share our happy day with us. We
wanted them to feel they were in a mini vacation getaway sharing time with us

Vendors
Photographer:  Lovely Bee Photography
Venue:  Jupiter Beach Resort
Reception Music:  Hector from Kenny Mondo Productions
Ceremony and Cocktail Hour Music:  Master Musicians
Officiant:  Rev Cynthia Capaccio from Ceremonies with Cynthia
Make Up:  Melinda Santi Make Up
Bride's Dress:  David's Bridal
Matron of honor, junior bridesmaid, flower girl and mother of the bride dresses:  David's Bridal
Groom's Suit:  Calvin Klein
Flower Arrangements/Bridal Bouquet:  Simply Flowers
Veil (custom made) and dress alterations:  Paula's Original Designs & Alterations in Miami