Wedding invitations are crucial in the planning process and paper plays a role even beyond the I do's. Whether you're wedding is themed or color schemed invitations should make a statement one way or another. For a couple, much of the wedding plans are basically finalized by the time the wedding invitations go out, but for the guests it's the first part of the wedding that they'll see and what bride doesn't want to make a statement?!
If you are trying to save costs and you're in a time crunch then you can use a mail merge software to email your wedding guests. Bug if you're a planner and you want to make a statement sending traditional invites then you might be wondering how can you make a statement with your wedding invitations? Well, we've teamed up with the online stationery experts over at Basic Invite to bring you their top tips to creating the wedding invitations of your dreams.
Start With The Vision
What's your vision? Are you picturing a lavish wedding with silver and gold details or something a bit more low-key like a small outdoor wedding filled with nature's own décor? Either way, take that vision and put it to paper. A real wood wedding invitation or an invite with leafy designs are both perfect choices for a rustic wedding. Botanical illustrations are always a timeless choice for the spring and fun themed invites like starfish invitations are perfect for summer wedding season. This Wedding at Makanda by the Sea is the perfect example of when beachy wedding invitations are a great fit.
Style Your Design
Make your invitations your own. Shopping at a box store or ordering stock invites is always an option, but if you want a suite that will stand out putting your own touches on a design is the easiest way to do that. Add color, gold, silver, or rose gold foil, and your favorite fonts. Paper is another way to customize your design. Choosing a luxurious paper type over something standard or flimsy will take those invites up another notch!
Top It Off Right
Envelopes and address printing are the details that guests will see first and those can be some of the most memorable aspects. Opt for address printing and a stunningly colorful envelope. Packaging is what can make or break any product and selling yourself short on your wedding invites is no different.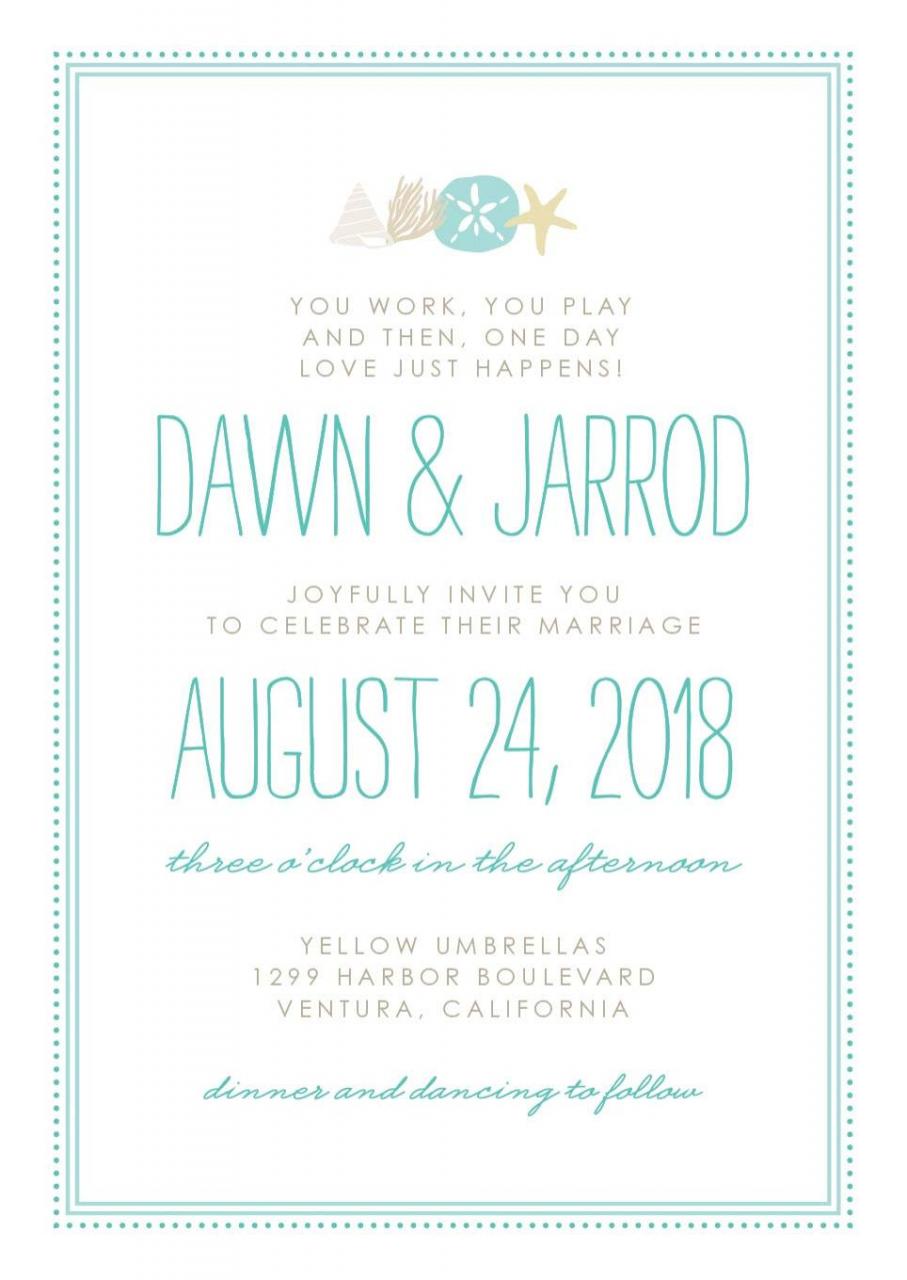 Image Source: basicinvite.com
Whatever you're picturing for your big day, show it through your wedding invitations. Not only will it help to keep your wedding style cohesive it will also let your guests know what to expect on your big day.