When you consider the beach as your sanctuary, it's only suitable for your wedding to be in one. This sky blue wedding had a beautiful view of the Cape Cod beach. Meg had a clever idea of wearing sky blue Toms for comfort and cuteness. Speaking of cute, the couple's ring bearer was their dog! The couple also had a DIY memory tree where the names of family members that have passed away were hung – a cute alternative for photo frames and what not. Congratulations on tying the knot Ryan and Meg!
Click image to enlarge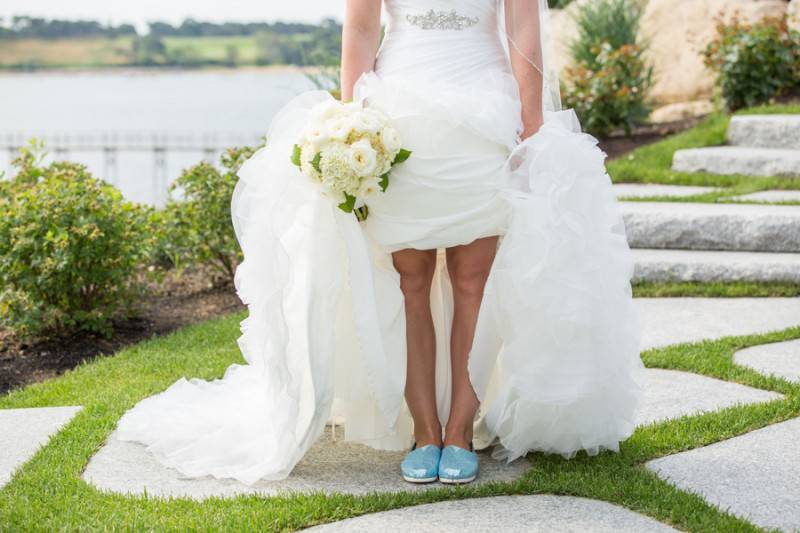 Like. Click to Vote
>
Our Story:
I was working my way through college waitressing at a local restaurant one winter and in walks a rowdy crowd of guys on a Monday afternoon. What else does a golf pro do in the winter besides drink beer, order half priced wings, and hit on young innocent waitresses? Just kidding! I knew immediately he was going to be a part of my life and he was a perfect gentleman the entire time! What makes the two of you a perfect match? Ryan is very level headed, grounded, calm, and logistic. I am more free-spirited, enthusiastic, and a "whatever happens, happens" type of girl. He grounds me when I get carried away and I help excite him when he's too serious.
The Proposal:
We took a trip to New York City around Christmas time to celebrate obtaining my bacholor's degree. One day, we walked over to Rockefeller Center to check out the tree and get our picture taken. To my complete and utter surprise, Ryan dropped to one knee as the photographer began to snap.
The Planning:
Yes, Ryan and I enjoyed our engagement and took a year and a half to plan our perfect day. What was the best advice you received when you were planning your wedding? Soak it all in, enjoy the moment!
Tips and Tricks for the Brides:
USE PINTEREST!
Planning Challenges:
At one point I ended up getting wrapped up in what others wanted and expected from my wedding and forgot about my own desires. I finally took a step back, collected myself, and started again keeping my own wishes as priority.
Wedding Decor Inspiration:
Ryan and I both grew up on Cape Cod and I consider the beach to be my sanctuary.
Wedding Outfit Inspiration:
The beach, ocean, Cape Cod, and summer!
Our Do-It-Yourself (DIY) Projects:
Yes, a memory tree where we hung shells with friends and family's names who have passed. We also painted an unfinished Adirondack chair and had guests sign it as a guest book.
Money Matters:
We saved a lot of money by having a lot of DIY projects. On the other hand, we spent the most on the venue and the videographer! But, it was so worth it!
You Are Cordially Invited:
We invited 147 and had 100 show up. We narrowed down our list by keeping to mostly family and only a few close friends.
The Songs:
"Best Day of My Life"- American Authors
"Marry Me"- Train
The Honeymoon:
We went to Aruba!
Advice for Couples:
Just breathe, it'll all work out!
Favorite Part of the Day:
After the ceremony and before the reception, Ryan and I were in a room by ourselves drinking champagne and taking it all in.
The Highlights of the Ceremony and the Reception:
Ceremony: When our dog came down the aisle with the rings! It was a complete surprise to me 🙂
Reception: The speeches were phenomenal and literally took my breath away!
 VENDORS
Photographer:  Kelly Cronin Photography
Ring Designer:Nasr Jewelers
Bridesmaid Dresses: Sposabella Bridal
Shoes: TOMS
Groomsman Attire: Watson's Menswear
Hair Stylist: Artworx Hair Design
DJ: Cape Tunes
Invitation Designer: Modern Vintage Design Studio
Floral Designer: New England Gardens
Reception Venue: Wequassett Resort & Golf Club