Click image to enlarge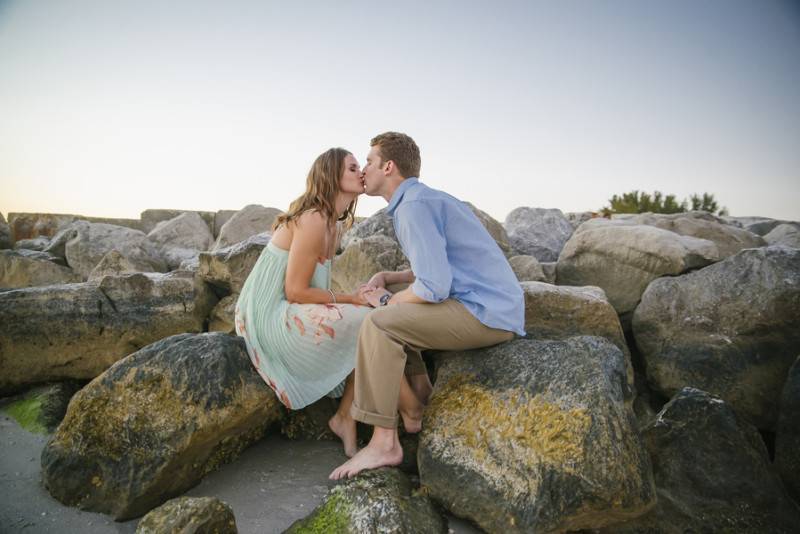 Like. Click to Vote
>
Engagement sessions are usually the first professional shoot a couple will have in their lifetimes so it's only normal for them to feel uneasy at first. This is where two things come in handy – a really supportive photographer and the constant reminder that you're posing around with the love of your life. If you put them together, add some beautiful locations and dramatic lighting, and you'll have the perfect album! Just like our couple, Kelsey & Aj, had with their engagement shoot. The beach, the sunset,  their photographer's direction, and of course, their love for each other, made everything look so light and natural. Congratulations to you two!!

Bride
My fiancé and I had never had professional photos taken before, and we couldn't believe how much fun we had during our engagement session with Ashlee Hamon Photography. A true professional, she helped to direct us while still giving us the space to be our true selves. The final result was the perfect combination of beautiful lighting, impeccable timing, hypnotizing portraits, and romantic candids. Our family and friends were in awe and have not stopped raving about the images since we showed them!

Photographer
I LOVE engagement sessions! I think they are super important for all of my wedding clients. It gives us the opportunity to et to know each other and for them to become comfortable being photographed. I'm able to gauge their reactions to certain poses and lighting set ups and use their feedback for the big day. For this session I really wanted to highlight Kelsey and AJ's fun loving personalities in their favorite setting, the beach! They have infectious smiles and their laid back vibe was perfect for the beach. I loved capturing their natural interaction leading into a spectacular Gulf Coast Sunset. I loved having the opportunity to use the natural light of the golden hour as well as my off camera flash. And the sentimental details they brought with them put it over the top! This is one of my favorite sessions ever!

Vendors
Photographer:  Ashlee Hamon Photography