Click image to enlarge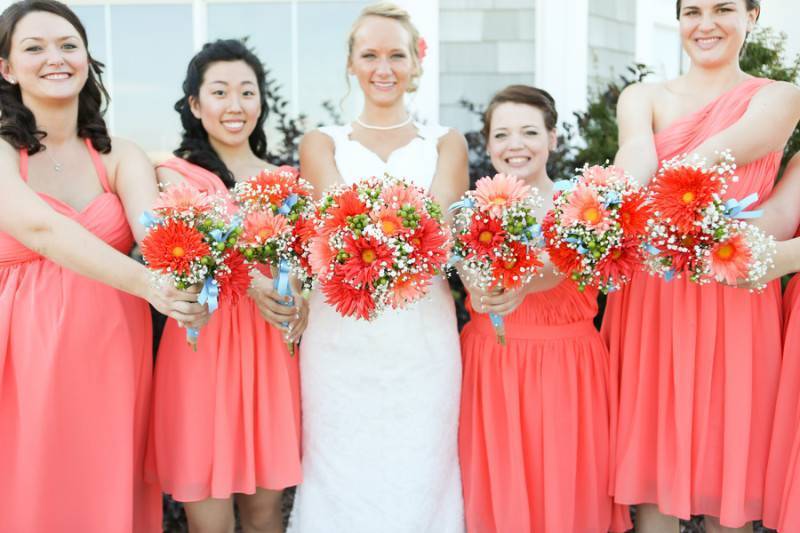 Like. Click to Vote
>
This beautiful wedding in coral and blue is just filled with quirkiness and sentimental value. Our gymnast couple had their coach become the officiant for their special day (watch their wedding video located within the post and you can see how totally comfortable they are around him). After their ceremony, they had a quirky and fun photo shoot right by the beach. Then it was off the the reception, where the venue was filled with adorable and rustic details. And I just love how their wedding cake was made by their bridesmaids, it makes it even more special. The coral and blue color palette for this wedding was the perfect match for the vibrant vibe our couple has. Congratulations Jessie & Johnny!

Bride
What is your story as a couple, how did you meet & fall in love?
Johnny and I were from the same small town in Michigan, we went to school at the same place from elementary through high school but since he was 3 years ahead of me we didn't officially meet until my freshman year of college when we were both on the gymnastics team. He liked me almost immediately, but it took me a year or two to come to my senses. He was persistent about hanging out with me even though I was already in a long distance relationship. By the time I was single again I lived in Tennessee but he still asked for a date for the next time I was back in Michigan. His "time invested" paid off because a month after our first date, I was his girlfriend!
What makes the two of you a perfect match?
Birds of a feather flock together or opposites attract? I think both are true. Which is why Johnny and I are perfect for each other. We enjoy a lot of the same things like working out, outdoor activities and surfing. Our personalities are really mellow which is great but at the same time we can be really different. For example, he likes thinking critically about each situation but I like to go with the flow and see where life takes us. I think a perfect mixture of those two things are best.
How did he (or you) propose?
He proposed to me at Disney world in front of the princess castle! Most of his family was there to witness the event.
How long was the planning process? Did you think it was enough time?
Originally we were going to get married more than a year after he purposed. But two months after he purposed I realized graduate school would get in the way of our projected wedding day. From the day I figured that out I only had three months to prepare (because I wanted a summer wedding). We were going to be apart during
those three months because I had 17 credits of summer school to do and a study tour to Africa for a month! It definitely was not enough time to prepare! But if I were to do it again I wouldn't have changed it a bit.
What was the best advice you received when you were planning your wedding?
I wanted to do everything myself to make sure it all got done right. Our old coach (who also married us) didn't let me do that. He made me dedicate every little task for the day of. It was hard at first but on the day you get married you just want the wedding to run itself, by that time your only job is to enjoy it and take it all in.
What tips & tricks (can we use "hacks"?) can you share future brides that you yourself have learned during and after your wedding?
I'm not an organized person but GET ORGANIZED! I bought a wedding planning book since I didn't have a wedding planner and it helped so much. I also made a lot of things. Any product that had the word "wedding" attached to it is going to have it's prices jacked up. See something cute on Pinterest? Make it!
What were some challenges you faced while planning your wedding & what did you do to address them?
The biggest problem I had was finding a venue in three months on the beach (with a roof). I looked and looked. In the end I found myself crying in my car parked in my driveway. My mom called my minutes later saying she found the PERFECT spot for half the budget price. Moms are awesome. Just like your marriage, if you leave it into Gods hands, he will always come through for you.
What inspired your wedding décor? Why did you choose the things that you did?
Of course it was on the beach so it had to be somewhat beachy but I really like a rustic barn look too. I tried to find a combination of those two themes that didn't clash.

What was the wedding budget?
We kept the whole wedding under $5000 for 150 guests
Where did you save the most money?
The ceremony venue was only $200 but I think the thing that was most impressive was my dress. I found it on etsy for $350 and I had it altered for $45. Oh! The cake! My bridemaids made it. It was SOO delicious and covered in chocolate covered strawberries that we made the night before.
What was the biggest expense?
Probably the food or photography. I think those are two things that deserve the most financial input
How many guests were invited in your wedding and what was the final guest count?
We wanted 150, we invited 180 and 151 reserved (woohoo!) I think at the wedding there were around 125 that actually showed up.
How did you narrow down your list?
If we haven't hung out or talked in a year or if I can't see us remaining friends for at least the next 5 years then we cut them out.
What songs did you use during the ceremony?
Butterfly kisses for the flower girls. A Coldplay song for the bridal party and I walked to a thousand years. These were played by our friends on piano and cello.
Where did you go on your honeymoon?
Honolulu, Hawaii
What are you most excited about for the future?
We are excited to live on the beach and have awesome surfing children.
Do you have advice for couples still in the planning process?
If your man is anything like mine, only give him one task at a time. I got frustrated because he didn't get anything done on his "to do" list. I figured out he was just overwhelmed. Eventually I figured out that I can only give one or two things to do at a time and when he finishes those then I can give him another thing to do. Our poor guys are stuck somewhere between wanting to make us happy and trying to stay out of our way.
What is the overall story for this album?
Two people who fell in love, got married and are about to have the adventure of their life's.
What inspired the wedding day outfits?
We wanted something that wouldn't be too uncomfortable on a warm summer day. Something that was still formal but for a beach setting.
What was your favorite part of the day?
Hanging out with our best friends and family. We had a blast taking fun pictures too.
Was there any Do it Yourself (DIY) projects? If so, can you describe them in detail?
There was a freestanding door that my brother made for me. We found the doors in someone's basement, I painted them and my brother made the frame. The invitations were also all hand done. My uncle works at a paper printing company. He printed a design we made on paper I bought from hobby lobby. My mom got some paper doilies from the cafeteria from her work for free and I bought some burlap string to tie around. $200 invitations cost me around $20.
What were the highlights from the ceremony & reception?
The ceremony was short and sweet. The officiant is a special person to us both. He got ordained just for us. It was sentimental but funny. The atmosphere was just so chill. At the reception people were surprised we didn't have dancing or alcohol because of our religious beliefs but the guests had so much fun with the little activities I
had set up around the place. We had a place to make miniature s'mores, a photo booth (which was just a Polaroid camera, a few mustaches, lips and chalkboard signs), and a "date night ideas" jar.
Was there a theme for the ceremony and reception?
There wasn't really a theme, we just knew that we wanted everything simple, light and fun
What part of the ceremonies do you think was the most memorable for you? (& your guests?)
After we kissed, when we walked back down the aisle everyone had a little bag of sprinkles they threw in the air. Some advice- don't do this on a hot day like we did, they melted everywhere!
Anything else you would like to add ?
For the most part, close family members feel really honored when you let them do something for your wedding. It's your day but family is important too.
Wedding Video

Photographer
What is the overall story for this album?
Johnny and Jessie are two young gymnasts that had a small DIY ceremony on the shores of Lake Michigan. Their coach actually was the officiant for their nuptials! A lot of friends and family pitched in to throw them a beautiful wedding. Johnny's dad was the videographer, a bridesmaid made the cake, and a friend did hair and makeup.
What inspired the wedding day outfits?
Can you believe she got her dress on Etsy (as did the bridesmaids)? It's gorgeous backless design was perfect for her figure. She picked it just because of how the back looked. The boys looked dapper with outfits from J. Crew.
What was your favorite part of the day?
Their wedding guests threw actual sprinkles – the kind you eat – when they were announced man and wife! Immediately after the ceremony, they were covered with the sticky candy sprinkles! It was so much fun to see the wedding party try to get them out of their hair, etc.
Was there any Do it Yourself (DIY) projects? If so, can you describe them in detail?
Yes! It seems the whole wedding was DIY. She had mason jars and burlap with Queen Anne's Lace at the ceremony site, as well as a really cool guest book system where her guests would fill out little paper hearts to put in a jar. I also think her centerpieces were DIY as well. She used faux apple twigs (they looked so real!) in large vases with water and floating candles pair with smaller vases filled with sand and a single coral rose.
What were the highlights from the ceremony & reception?
I loved the guests wearing their sunglasses favors at the ceremony. Especially because the day was hot and sunny and they looked so fun!
What part of the ceremonies do you think was the most memorable for the bride and groom?
I think their vows and the sprinkle exit were the most memorable moment of the ceremony.

Vendors
Photographer:  S.C. Photography
Event Venue:  Harbor Shores Golf Club
Cinema and Video:  TJ21 Video