A picturesque location plus a couple with so much chemistry equals a dream wedding for Marilyn Shamblin to shoot. Lina and Carlos had such a stylish wedding that will give you so much wedding inspiration. It was spring themed with blush and white as the motif alongside are the rose centerpieces. Everything was simple yet very classic. Lina and Carlos will surely enjoy looking back and reminiscing their big day because of its timelessness. We wish you both many years of happiness ahead. Cheers!
Click image to enlarge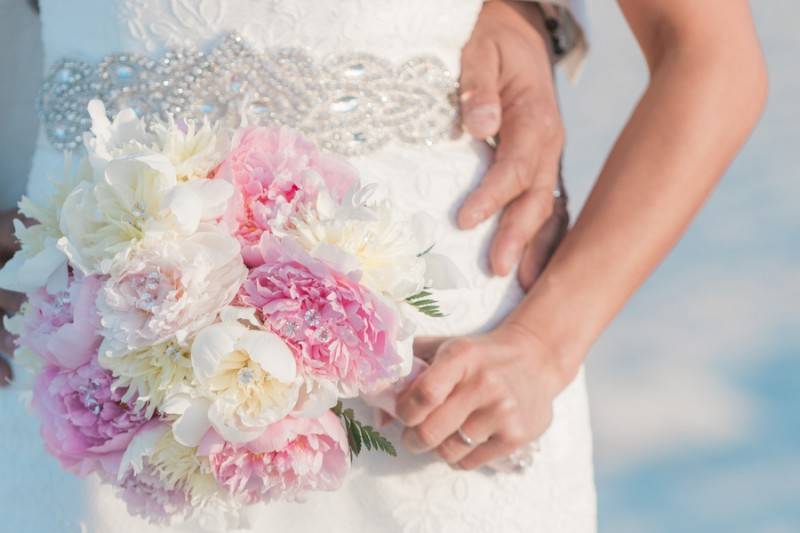 Like. Click to Vote
>
Carlos and Lina's wedding was truly epic. A romantic mixture of classic romantic with modern contemporary this stylish wedding was filled with joy and family love. Lina gave Penelope Cruz a run for her money and looked stunning in her open back lace dress with beautiful crystal embellishments. Carlos was the handsome and mysterious groom in his linen suit. The two of them are magical together, and their chemistry was sultry during their newlywed portraits.

Throughout the whole day, my associate and I kept asking Carlos and Lina to get married again because their wedding was so picture perfect. Hotel Zamora was the picturesque location for their friends and family to celebrate their union. The luxurious rooms and lobby are simply breathtaking mixing Romanesque with the Spanish modern architecture we were in heaven. Their beach ceremony was divine. The fresh breeze and golden sunset added to the perfection of the day. Lina and Carlos wanted their reception to be fun, filled with the love of their family and a real celebration. They fell in love with Hotel Zamora's Mediterranean-influenced contemporary design and the relaxed environment of the rooftop space for their reception.
Our Story:
We met on February 2013, during a Latin Night at a bar in Tampa and it had to be destiny what brought us together. We were both still moving on from recent breakups, so neither one of us had intentions to get out there to try to meet someone to date. The bar is located in an area that neither one of us frequently visits, we were just there because we each had plans with our friends and ended up at that bar to grab a quick bite and drinks. Carlos' noticed me first and tried to pick me up by asking me for help getting a drink from the bartender. He said: "what do I have to do here to get a drink. Would you please help me? The bartender seems to be paying attention to the cute girls for obvious reasons". I said, "you just have to be persistent." And sure enough, from that moment he was very persistent trying to get me to go out with him. His persistence paid off and short 22 months after he proposed!
We are a Perfect Match:
We both like to focus on the present and enjoy every moment in life, especially since we started our life together.
The Proposal:
The proposal took place at the Philadelphia airport, on a Thursday night 12/14 when I least expected it as we had both gone through some rough personal situations. I flew to Phili to spend the weekend with him as he was working on a contract assignment in that area. He greeted me as usual, and when we were waiting for my bag seated on carousel #7, he said, "I want us to have a great weekend together, just enjoying every moment. What life has taught these past few days is that the worst part of going through rough moments in life is when you have to do it without the person you love by your side. Life is a bumpy ride, and I want you to take that ride with me…" at that moment he reached out to his pocket, took the ring's bag out and said "so, would you?". I was in shock! That was the last thing I was expecting from that trip, but at the same time, I was so happy. The ring is beautiful and just perfect size for my delicate finger (size 4); it is from the Vera Wang Love collection, halo style.
Wedding Decor Inspiration:
I fell in love with the blush color palette that was "in" for spring.
The Do-It-Yourself (DIY) Projects:
I covered the centerpieces in pink paper with black ribbon and rhinestones.

The Planning Process:
I only planned the wedding for short four months. We knew we wanted an intimate and simple beach wedding.
The Guest List:
62 invited, 55 attended
We only invited our families and close friends
The Outfit Inspiration:
From the moment I started looking into wedding dresses at the magazines I knew for sure that I wanted a form fitted illusion neckline dress. I didn't have to search too far; I found my perfect dress just five days after I started looking. Because we wanted a small intimate wedding we chose not to have a bridal party, we just had flower girls who were wearing very simple eyelet dresses, and my stepson were the ring bearer who wore skinny khaki pants with a white button-down shirt and beige and white polka dot bow tie…totally sweet, simple and adorable.
Money Matters:
$15,000 was the budget. We saved money on wedding decors, like table arrangements, party favors, linens, etc. We used what the hotel provided and only had centerpieces made of natural flowers. And the biggest expense would be the food and drinks.
The Songs:
All of me by John Legend when walking down the aisle
Just the Way you are by Bruno Mars during Unity Sand Ceremony
I do by Colbie Calliat after the ceremony ended
Our first dance was Let's Stay Together by Maroon 5
VENDORS
Photographer: Rising Lotus Photography
Dress Store: Emelina's Bridal & Boutique
Makeup Artist: Jess Waldrop – Makeup Artists
Cake Designer: Let Them Eat Cake
Event Venue: The Hotel Zamora