Kelly and David
It's not everyday that you get to encounter a love like this couple. Behind this heavenly beach wedding in the Crystal Coast, this couple endured the loss of a loved one months before their big day. The perfect sunset shot is believed that it wasn't just their love captured on film but also the love they have between their family and friends. We genuinely celebrate with you Kelly and David! Cheers!
Click image to enlarge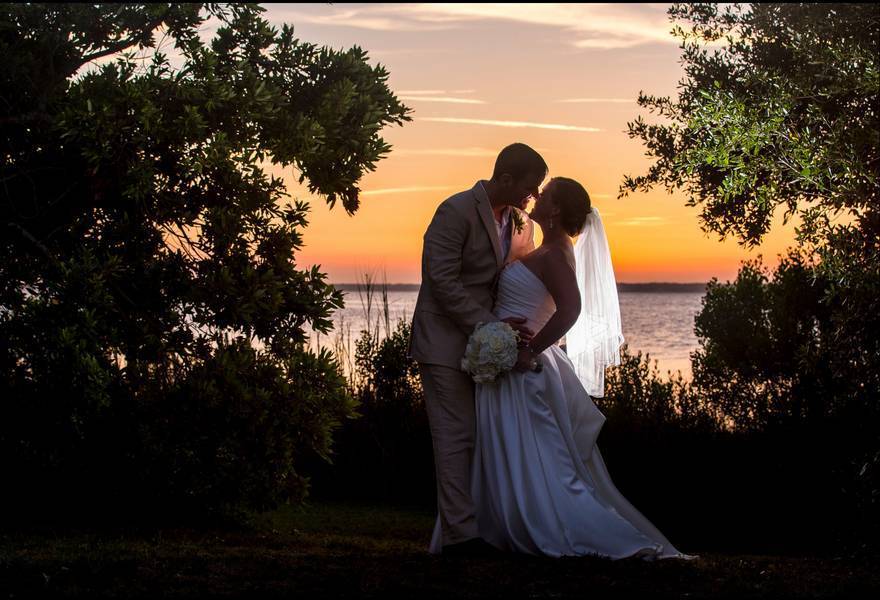 9

Like. Click to Vote
>
Extra Special Details
❤ The Crystal Coast has always been a very special place to me. Nothing was cooler than seeing all of your closest friends and family together in your favorite place, celebrating your love. I remember looking at Dave on Friday during the day and saying, "This is just awesome," as I looked up and down the beach and saw it filled with so many of our loved ones from all different walks of life.

❤ I loved having all of our guests join us for a welcome party on Friday night so that we could mingle and catch up with them because our reception just flew by.

❤ When we were coming back down the aisle as Mr. and Mrs. Pezley, I wrapped my arm around Dave and laid the biggest kiss on him. My veil was flying in the most perfect way (in fact, it fell out right after that).

❤ This amazing sun set and us looking at each other. I have never seen a sunset as beautiful as I did that night. about 6 months before our wedding, we lost Dave's father to a battle with cancer. I know that he had something to do with that amazing weather and sunset we had.

❤ Our guests represented 27 states! They all came to the beautiful Crystal Coast to share in our wedding festivities. I am originally from New York and my husband is from Ohio, we have moved around a bit and now live in Cleveland, OH. Our wedding was such an amazing collection of friends from every part of our lives.

– Kelly
Heed Her Advice!
❤ Chill out! I am very type A and worry about everything! I wish I relaxed a little bit more and enjoyed our time being engaged, rather than stressing about the wedding. The planning takes several months but the marriage is what you're in it for and that lasts a lifetime.
❤ We did not have photo sessions before our wedding but we did invite Ellen to photograph our Rehearsal Dinner boat cruise that we invited all of our guests to. I was so happy that we did and they turned out to be some of my favorite pictures because it showed all of our love ones very casual, having a blast and enjoying the water.
❤ There were probably little expenses here and there that I could have cut because they went unnoticed (like the killer Kate Spade heels I bought, then ended up wearing flip flops).
Vendors
Photographer:   Ellen LeRoy Photography
Makeup Artist: Blushed
Invitation Designer: Cricket Printing
Equipment Rentals: Crystal Coast Tent and Event Rentals
Floral Designer: Flowers by Ernest
Officiant: NC Wedding Officiant Rev. Angela Kelley
Reception Venue: The Country Club of the Crystal Coast