We seldom see couples today in parks, fiddling on tandem bikes and enjoying time together. However, Heather and Zach find this hustle bustle helluva fun and cute (especially when they are posing on the bike 🙂 ). So, for their engagement shoot, they took a park with a sidewalk overlooking a harbor, a gazebo, tall trees, tandem bikes, and old houses. Add their pastel- colored casual attires and their flickering looks at each other, does this sounds like a Nicholas Sparks movie to you? Just like pedaling on tandem bikes, couples should live harmoniously until their lifetime to avoid downfalls – this is the reason H and Z favored this style over another. To Heather and Zach, keep on pedaling that tandem and grow contented with each other. Yay, on your wedding!
Click image to enlarge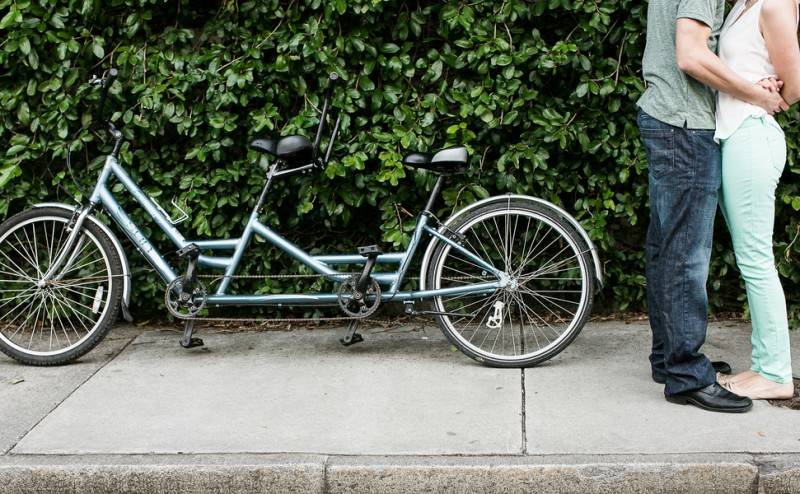 1

Like. Click to Vote
>
The Proposal
Zach and Heather were visiting Machinaw City, MI and took an early ferry to Mackinac Island for the day. They didn't know much about Mackinac, but Zach's Aunt & Uncle told them about Arch Rock and that was the main thing Heather wanted to see! It was a tad chilly and sprinkling, so they decided that we would hike to Arch Rock to stay warm. Arch Rock was a tad crowded due to a tour, so they hiked a little more to the Nicolet Watch Tower. Heather thought they were taking their time, but now knows that Zach was frantically trying to untie the ring from the little cloth jewelry bag in his pocket. Heather noticed that Zach was awkwardly concentrating too much, but just ignored him and went to look over the edge.
Just as Heather reached the ledge, Zach called her name, but she continued to look at the gorgeous, multi-colored water. He said her name again, this time more firmly. Heather turned and noticed that he was on one knee. He had the most gorgeous ring in his hand and proposed! Heather's first response: "Are you serious?!" She probably said, "yes." shortly after, but was so nervous/anxious/excited, that she crouched down on the ground with him! She loves everything about the surprise and proposal! They had the rest of the day to relax, tour the fort, eat, and celebrate! After lunch, they rented a tandem bicycle and biked around the island! For the first half of the ride, Heather sat in the back and called/texted family and stared at her ring. They rode under Arch Rock and took great photos and stopped for a bit for Zach to teach Heather how to skip rocks! Heather tried to steer once, but quickly veered off the road and was once again, sent to the back seat. It was a wonderful trip and they can't wait to go back!
The Theme
We wanted to portray our simple and fun characteristics. We are very low-key and are always laughing and playing jokes on one another. Battery Park in Charleston, SC was the perfect location for our engagement photo shoot! In this small park, there are gorgeous tress, a sidewalk that overlooks the harbor, a stunning gazebo, and historic houses that make beautiful backdrops. We met in Charleston and it only seemed fitting to have the typical 'Charleston look' for the photo shoot. We really love the tandem bike theme! Some family members keep telling us that we need to ride off on a tandem bike for the exit at the end of the reception. That may just happen if I can figure out a way to get on the bike in my wedding dress!
Wedding Outfit Inspiration
To be honest, I was shopping the morning of the engagement session for my second outfit. After shopping, I had Zach try on a few shirts and picked a grey shirt for him to wear. He told me it was green, but I promised him it was grey. When we got to the park, well, Zach was right and was wearing a green shirt…oops! We are very lowkey and selecting outfits hours before the engagement session is exactly our style!
Planning Advice For Couples
At first, we were a tad nervous and stiff, as this was our first day for our professional modeling career (kidding, of course!) Our photographers, Devin & Kathryn, immediately made us feel comfortable by making jokes and showing us what to do. It was great that they are married, because they could jump right in and show us a romantic pose, where to place my head, etc… by doing it themselves. It would have been awkward if they were just two professional colleagues working together! Besides the nerves in the beginning, it was a thrilling experience! We really got used to the strangers walking by, staring at us, and taking pictures of us on a tandem bike!
Trust your photographers! You picked your photographers for a reason, so let them take control and they will unleash their creativity! I would also suggest that you arrive to the location early and spend some time with your fiance, just the two of you! The wedding is November 28, 2015 at the Wild Dunes Resort in Isle of Palms, SC.
VENDORS
Photographer: Anchor & Veil Photography