Click image to enlarge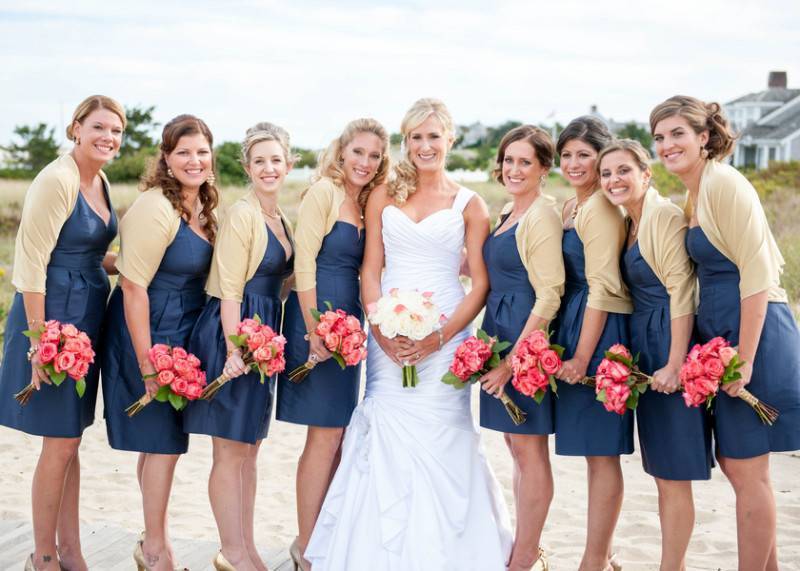 Like. Click to Vote
>
Bride
We both have always loved the beach and Cape Cod and really wanted this to show through to our guests on our wedding day. One of the most important things when planning our wedding was choosing the perfect location that to us was the essence of Cape Cod. We found this inspiration at the Chatham Bars Inn in Chatham, MA. After finding the location, we were able to plan everything else around this breathtaking back drop. My thoughts behind the decorations and theme were simple and classic. Since Greg is a pilot in the Coast Guard and he and his military groomsmen would be wearing their military whiles, we also wanted this to play a central role in the image of the wedding. My Maggie Sotero dress was specifically chosen to be pure white to match his military uniform. The detail of one strap over the shoulder was adder afterwards to accentuate the simple sweetheart neckline of the dress and make it stand out next to Greg in his military whites.
Our save the dates, invitations, menus and all other printing were done with the help of an amazing design team: Serendipity Beyond Design. The ladies there helped us right from the start with a vintage postcard themed save the date with a map of Cape Cod on the front, up to our table name cards, each a different town on Cape Cod. They even created an original piece of design, at our request, for our invitations, which was two adirondack chairs overlooking the water. These two adirondack chairs were also on top of our cake!
The colors we chose were a beautiful mix of nautical and military. The bridesmaids wore navy blue with gold accents and carried simple bouquets of coral roses. The silk dupioni dresses varied in style and were chose from the J. Crew line of bridesmaid dresses. The coral and gold accents carried through the rest of the wedding, from the invitations to the flowers, the groomsmen bow ties and pocket squares.
I did not want lavish centerpieces or floral decorations. Our scenery at the ceremony and reception location was so beautiful that I felt little was needed in terms of other decorations as it would draw away from what we already had. Each table was name after a town on Cape Cod, our table being named Nantucket, the location we got engaged at a year earlier. Our florist, Abigail Swanson of Designer's Touch Florist( Brewster, MA) helped us come up with with a perfect ira for simple centerpieces that would also help us reuse the bouquets from the ceremony. Half of our guest tables had floating candles in different size vases with shades of blue sea glass. The other half of the table centerpieces were made by reusing the bridesmaid bouquets. This was one of my favorite touches to the wedding. It was so simple but looked so elegant in the setting for the reception.
Another important aspect for our wedding was having a live band for the reception. Jeff Ross and the Atlantics were an amazing find! Jeff and his band played the music for our ceremony, cocktail hour and reception. They played to the crowd and really were influential in creating a wonderful atmosphere and keeping everyone on the dance floor all night long!
One last detail that was especially unique was our "guestbook". Since Greg is a pilot, we chose to find a wooden propeller that the guests could all sign and we could then hang in our home to view everyday. This turned out to be a special touch, one that everyone seemed to enjoy.
How We Met
Greg and I met in March of 2013 on Match.com. We had both been active members in the online dating scene and were about to throw in the towel when a wink from vetgirl0607 on March 9th, and an email back from isthis4real2284 started a relationship unlike any other we had experienced before. Both of us had always heard the "when you know, you know" statement over and over again from friends who had found their counterpart in life. This couldn't have been more true and our dating relationship quickly grew into much more.
The proposal happen on October 19, 2013. After a seven month whirlwind romance, we were visiting Nantucket for the weekend with two other couples when after lunch downtown, everyone decided to go for a walk. As each couple began heading in their own direction, Greg lead me out to the docks to see the boats on the harbor. This was not something unusual for us to do, so when Greg suddenly dropped to one knee and said "Kendall Stratton…", which reaching in his pocket, I immediately broke into tears and dropped to the ground with him. Of course, my answer was "Yes!"

Vendors
Photographer:  Kristin Jordan Photography
Caterer: Chatham Bars Inn
Makeup Artist: Chris Lewis Makeup
Floral Designer: Designers Touch Florals
Cinema and Video:Digital Imaging of Cape Cod
Bridesmaid Dresses:J. Crew
Officiant: Rev. Faith Lavender
Invitation Designer: Serendipity Beyond Design
Band:The Atlantics
Reception Venue: Chatham Bars Inn
Dress Designer:Maggie Sotero