Even if no one notices your shoes on your big day, you will when you have to walk through the sand!
There are many important things to consider when selecting shoes for your destination beach wedding. While you may want to wear an elaborate pair of heels, the reality is they are likely to frustrate you and may even pose a hazard to your safety.
Heels, unlike flat shoes, will simply sink into the sand. And, if you try to move too fast, you may even end up twisting your ankle. This is hardly the type of entrance you want to make on your special day!
Knowing that you shouldn't wear the heels you had hoped to wear may place a black cloud over your destination beach wedding. After all, shoes are a big deal for ladies, right? You may have the misconception that you cannot look elegant and beautiful in anything else, but nothing could be further from the truth. Aside from heels, there are many great choices when it comes to shoes for your destination beach wedding.
Barefoot. Well, Almost.
Commonly called barefoot sandals, these bridal shoes are perfect for the natural bride who still wants to look elegant. Barefoot sandals look similar to an ankle bracelet, but there is a small section that wraps around the middle toe. They are often elaborate and are made with items like faux crystals or pearls. Also, since you are pretty much barefoot, you can avoid having any sand in your shoes.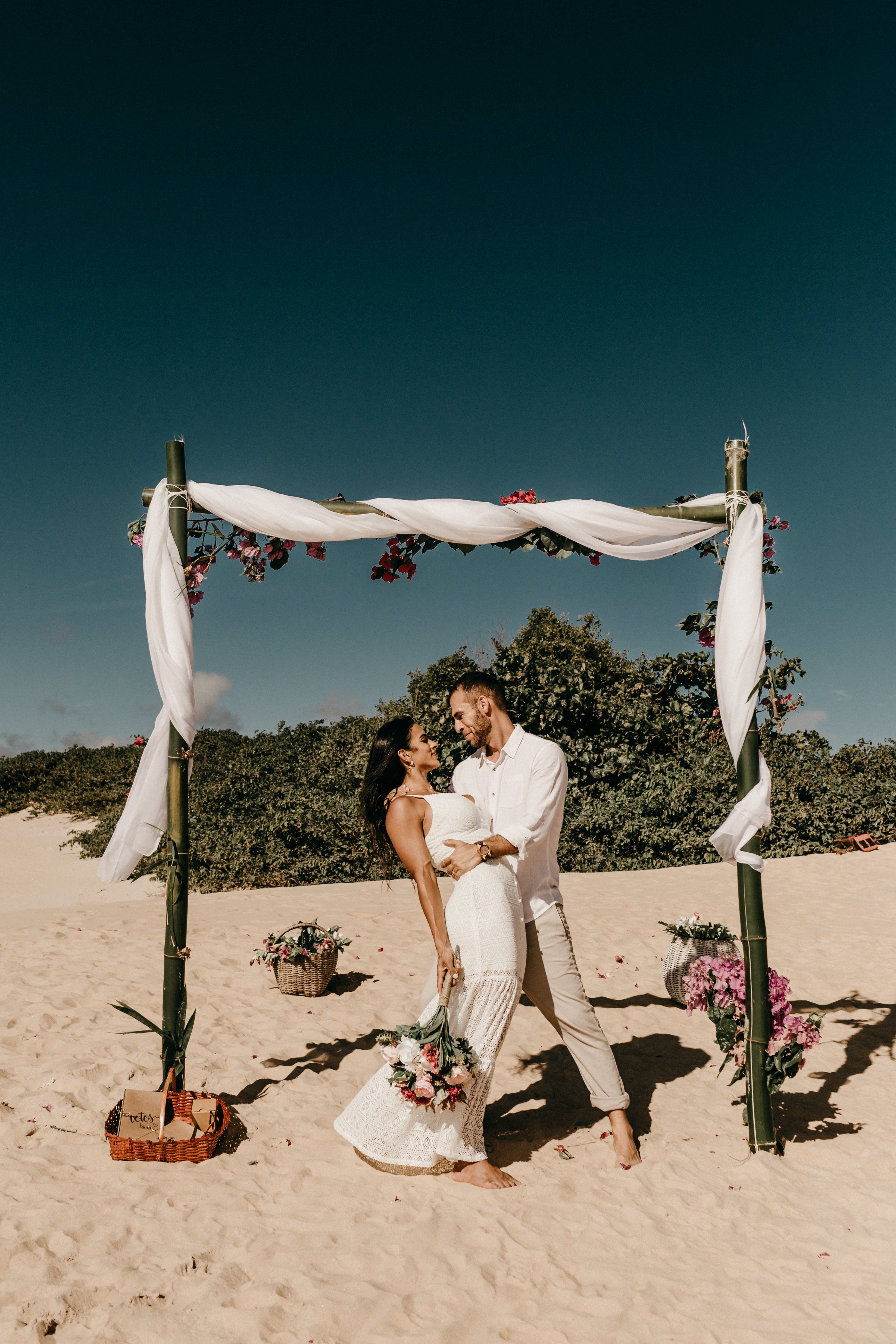 Flip-Flops
Many brides automatically think of flip-flops as a more casual shoe; one that doesn't fit in with wedding attire– not even for a beach wedding. Thankfully, there are actually bridal flip-flops that will still make you look great on your special day. Flip-flops are great shoes for your destination beach wedding, especially if the sand will be hot. Look for designs with shimmery embellishments like sequins or rhinestones.
Sandals
Like flip-flops, sandals can be more elaborate than the average pair you wear around the house, except they provide a little more support than flip-flops do. While you are more likely to get sand trapped inside sandals, they are often the best shoes for your destination beach wedding if your ceremony is going to be more formal.
High Heels
We all know how breathtaking beach weddings can be, but let's address the elephant in the sand: high-heels and sandy shores don't always mix well. But fear not, because I have a fantastic piece of advice for you! If you have your heart set on wearing those glamorous heels for your ceremony, consider using inserts or wedges specifically designed for heels on the sand. These little gems provide extra stability and support, preventing your heels from sinking into the soft sand. By using these inserts, you can confidently walk down the aisle, feeling like a true beach goddess without sacrificing your love for fabulous footwear.