Our couple, Kate and Kevin, pulled off a great challenge, planning a wedding in a short period of time. In three months they have managed to come up with a simple yet enchanting nautical wedding. The couple opted-in for a minimal nautical theme. White starfish accented the bouquet of pink roses. Navy and white were the main colour for the entourage. A fun and stress-free wedding day was the bride's goal hence a simple yet enchanting wedding.
Click image to enlarge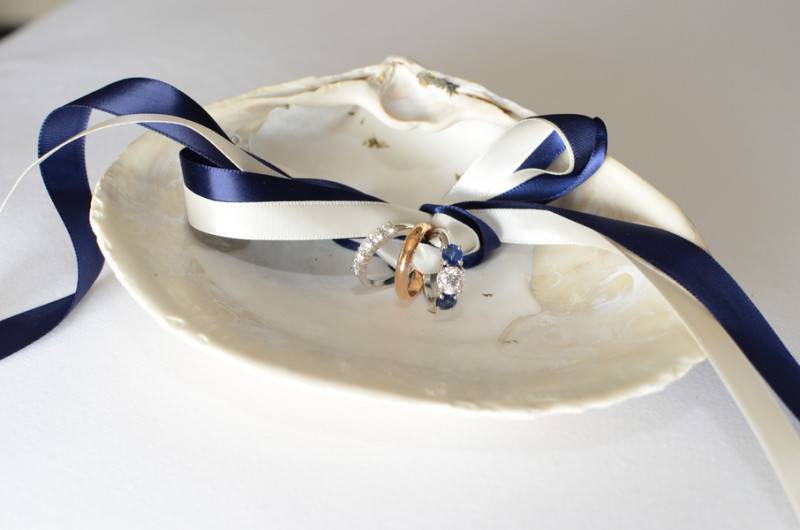 1

Like. Click to Vote
>
Where did you and Kevin meet?
We first met at a charity event in February 2012. He was so nice, and I felt comfortable with him immediately. Looking back, when I first met him, it felt like being home. Unfortunately, we didn't exchange information. However, as fate would have it, we met again at a party at his brother's and sister-in-law's house in April. I remember sitting on their deck, Kevin walking out, and me jumping out of my seat to give him a hug. I think I was surprised by how happy and excited I was to see him, and it's been wonderful ever since.
How did you know he was the one?
We had a connection immediately, but I wasn't sure what it would turn into. Like many people, we were both bouncing back from crushing relationship experiences, so we took it as slowly as we could, but we realized pretty quickly that we were meant for each other.
What is your favorite thing about Kevin?
Hard to pick. He is so loving, supportive and kind and always wants to take care of me. He's also a great dad to Mary Grace and William. We make a great team. He makes me laugh, whether it's his millionth corny pun or if he's lovingly calling me out on my nonsense.
Engagement story?
We got engaged on April 26th during Daffodil Weekend on Nantucket. Nantucket is my favorite place on earth; its home to my grandparents' summer house, where I've been going since I was born. We went out on Friday night, under the guise that it would be the last free weekend we would have for a long time. We had an awesome dinner when we arrived, and Saturday, it was pouring rain basically all day. We watched the abbreviated Daffodil Parade, and I was ready to go home, but Kevin was adamant about renting a Jeep and driving out to Sunset, where our family's house is located. The Jeep came with a beach sticker, so we drove along the beachfront all the way out to Great Point. It had stopped raining, but it was still cold and damp. Despite the weather, it was so beautiful and peaceful out there. The point was covered in seals and sea shells, so we decided to park, walk around, and explore. I started collecting shells, and eventually Kevin asked me to stop and turn towards him. When I did, he was down on one knee and we both began to cry as he proposed. I don't think either of us expected to be so moved by the moment, but we were and, like Great Point itself, it was beautiful, peaceful, and perfect.
Our ring has a story too. We went on a safari in South Africa last fall, and Kevin purchased the stones there — unbeknownst to me, of course!
What was your favorite thing about the wedding?
The best part of the wedding was the pure joy and happiness we felt, which Rachael captured beautifully in the photos. We had so much fun with each other and our guests…and the dance floor was packed all night! It was a picture perfect day as well – 70 degrees and blue skies – and we felt like we were in heaven, especially with all our family and friends surrounding us with such love and happiness.
What would be your advice to future brides?
Minimize the desire to do a perfect "Pinterest" wedding. We kept it simple, focusing on great music and beautiful flowers and rather than focusing on favors and other little details that I'm sure would have added unnecessary stress to our special day.
VENDORS
Photographer: Dragonflyshots