These are a few of my favorite things: The sea, watercolors, florals, and bohemian style. This rustic styled shoot set on the shore of the Californian sea is a slayer when it comes to nifty talks. Tied in with different elements from great vendors, and a palette of lavender, greys, blue, and marsala, this could be the inspiration you are looking for in your coming celebrations. Take a look at how everything was whipped into shape and tell us what you think in the comment box below!
Click image to enlarge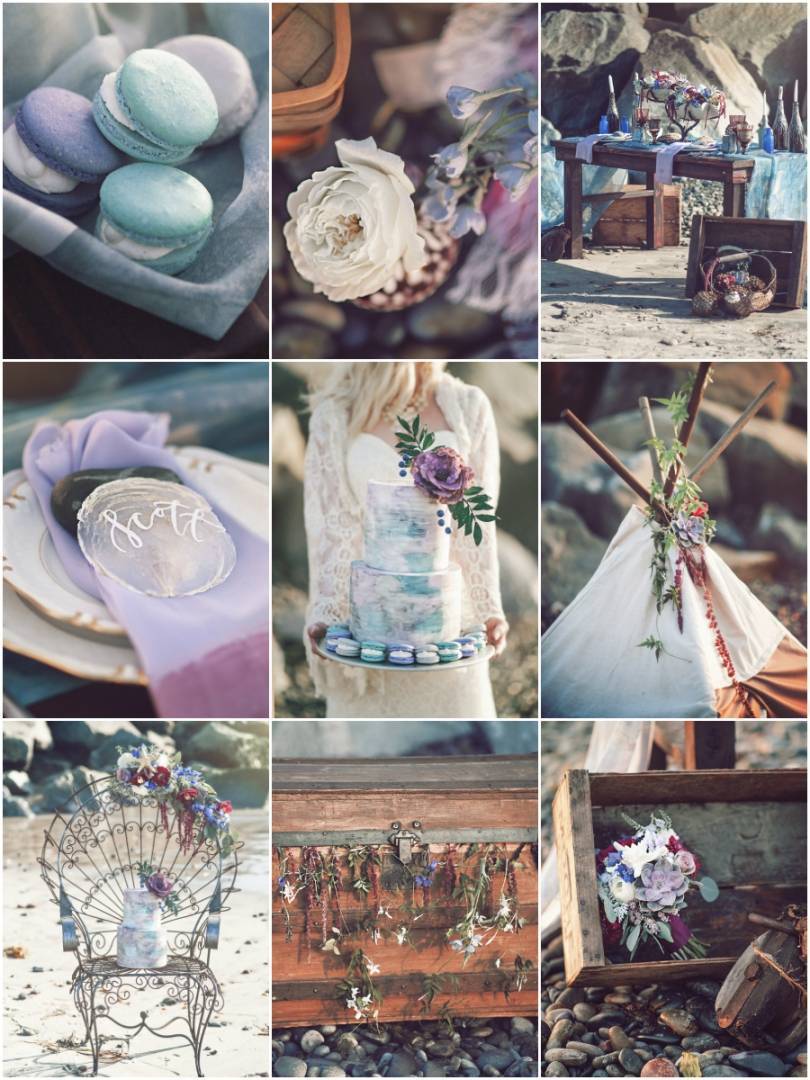 6

Like. Click to Vote
>
---
The Styled Shoot Details
---
The Tambourine Floral Crown
While tambourines produce musical cling-clangs, this bride's floral crown was a tambourine of beauty and finesse. Since it was a year for marsala, the headdress was decorated with such color. Slay!
---
The Tablescape
The table runner fabric colors were a combination of blue,grey, purple and it resembled a watercolor technique to it. Add the white dinner scalloped shape plates with a gold trim and lavender sheer fabric, you are good to go. But, it does not end there. A mix of cutleries of pewter cups, purple goblets, and glassware that had a grey and marsala watercolor style to it was a hit! And, the centerpiece was a clam food party holder which was completed with wine bottles and candle waxes.
---
Peacock Chairs and Icing on Top
Not your ordinary chair, but as magical as the peacock's feathers. It was decorated with different wildflowers along the edges of the white metallic chair and the icing on top was the moist raspberry lemon cake painted in a watercolor technique. It was absolutely gorgeous!
---
Fabric Calligraphy
Wow to the invites and menus which were calligraphed on a fabric. It was a beautiful poem and it was phenomenal. Even the place cards were written on a shell! Note: Do not limit yourself on paper calligraphy and try new textures to write on! Explore!
---
The Boho Get-up
A fitted sweetheart shape all lace ivory creme color gown was paired with a boho gold style necklace that was carefully handpainted. Incorporated with the colors of the shoot pinks and lavender and gold, it was sure glam!
---
The Photographer's Note
"It was a blinding golden afternoon and the tide was high. The beach was making us work for that perfect photograph. It was amazing to see all the creative elements come together. It was my privilege to photograph this beautiful stylized shoot and it was my first time to collaborate with all of them."
---
VENDORS
Event Designer: A Rustic Vintage Affair
Cinema and Video: Audrey Alba Films
Beauty: Meredith Andrée De Leon
Bridesmaid Dresses: Dangelo Boutique
Tuxedo and Men's Attire: Friar Tux
Calligrapher: Kindred Calligraphy
Cake: Little Hunnys Cakery
Floral Designer: New Creation Floral Design
Cookies: Pennyscustomcookies.com
Heirlooms and Extras: Rickety Swank
Photographer: London Light Photography